Selected documents (in various languages) from Uri Avnery private archive
[1971] PM Golda Meir's statement in the Knesset that she is ready to mount the barricades in order to remove Avnery from the Knesset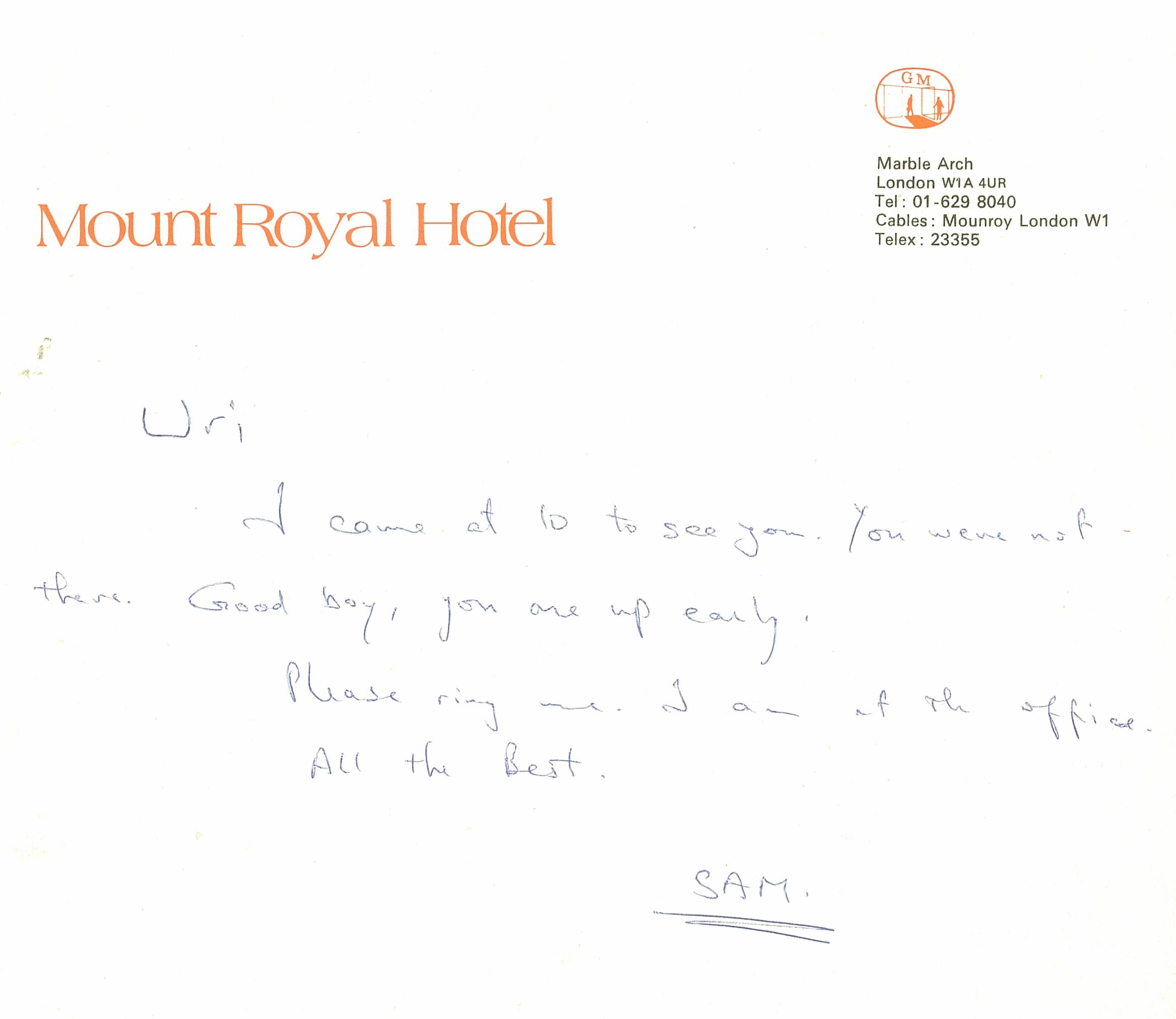 [1974] Note from Said Hamami telling Avnery that he came to visit him in his hotel in London when he was absent. At this stage their conversations were secret.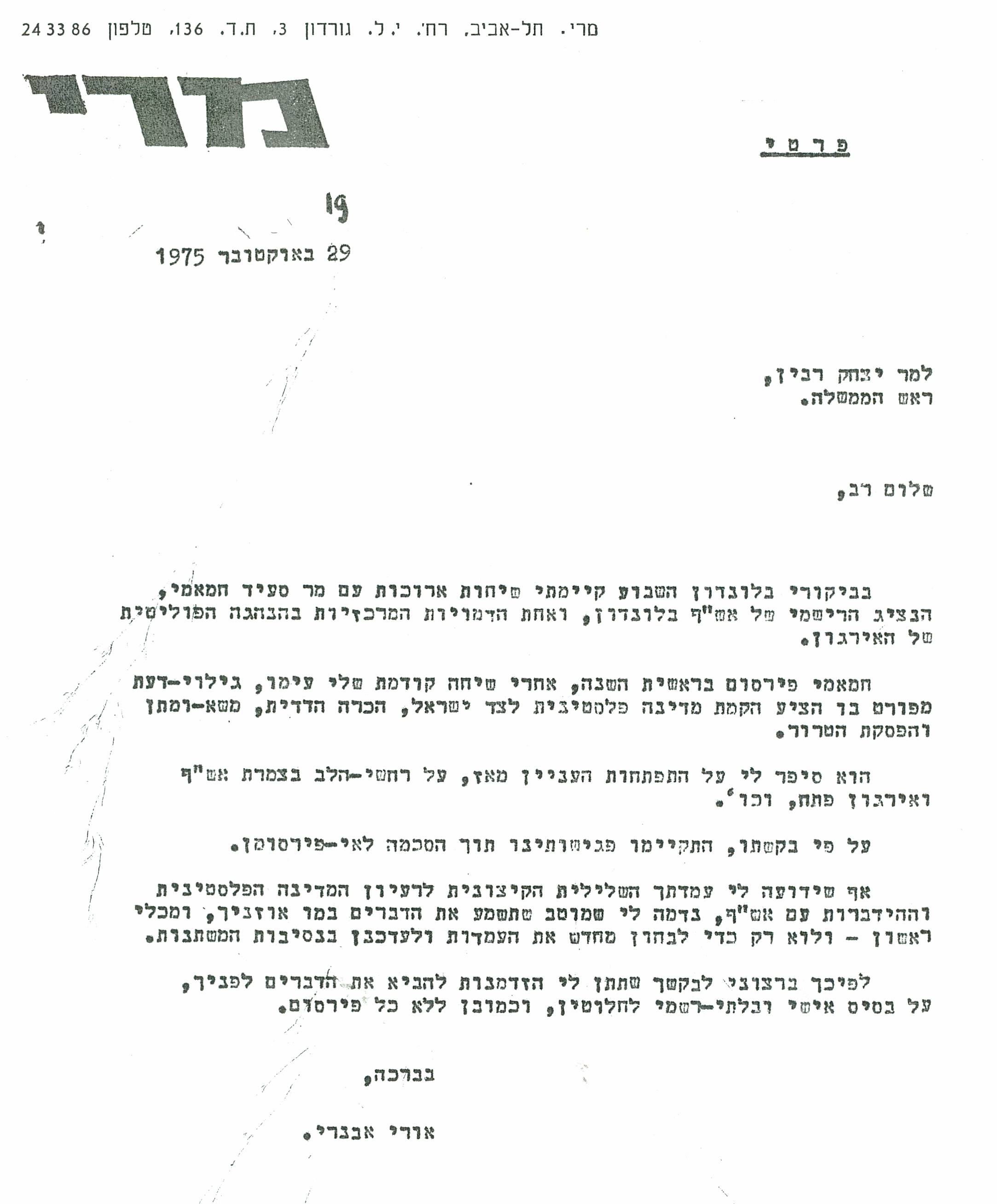 [1975] Avnery's letter to Prime Minister Rabin requesting a meeting in order to report on a secret conversation he had with the PLO representative in London, Said Hamami.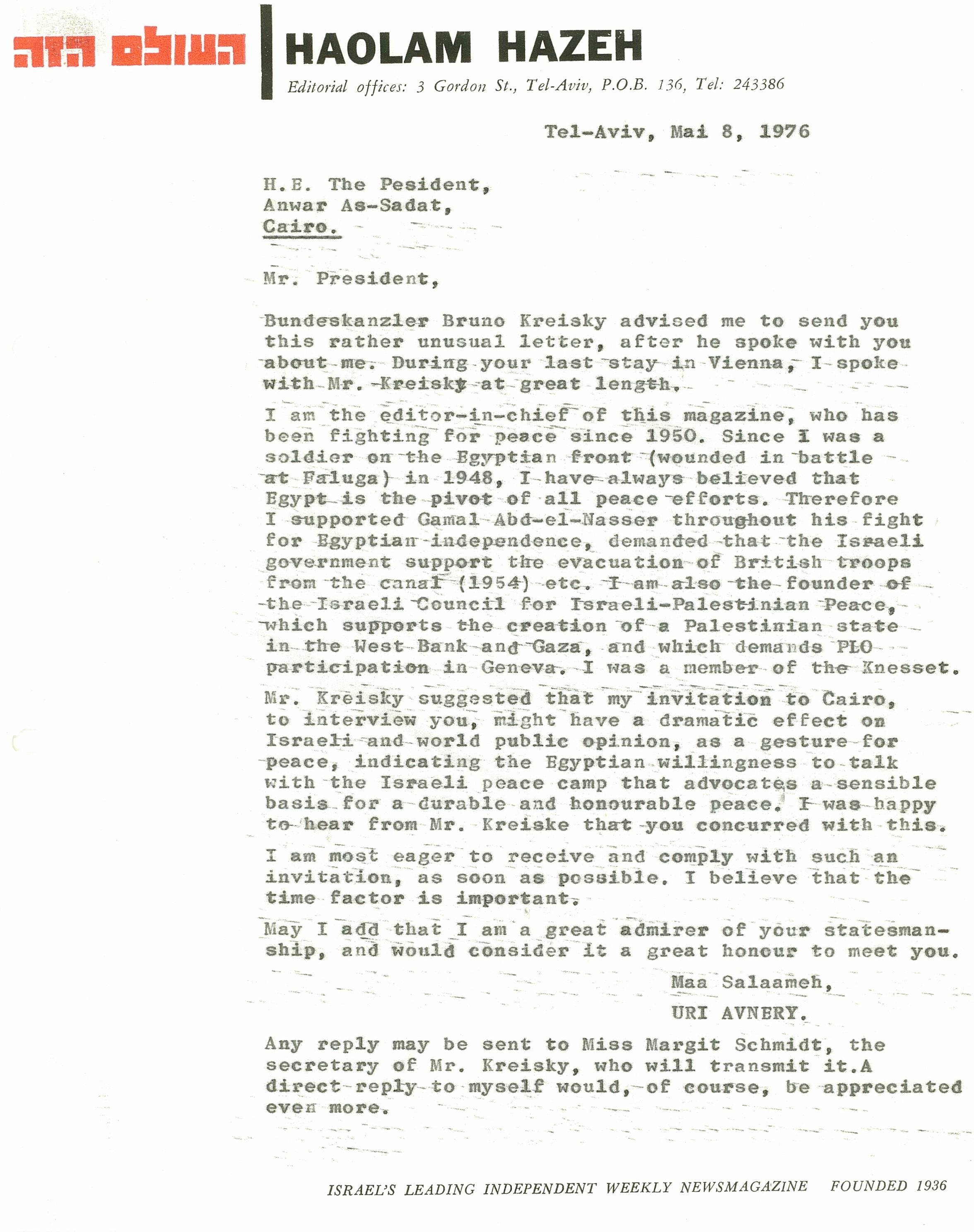 [1976] A year before Sadat's visit to Jerusalem, a letter Avnery sent him, on Kanzler Bruno Kreisky's advice, asking him for an interview in Vienna as a political gesture. Kreisky sent the letter through his diplomatic post and volunteered to transmit an answer. There was no answer.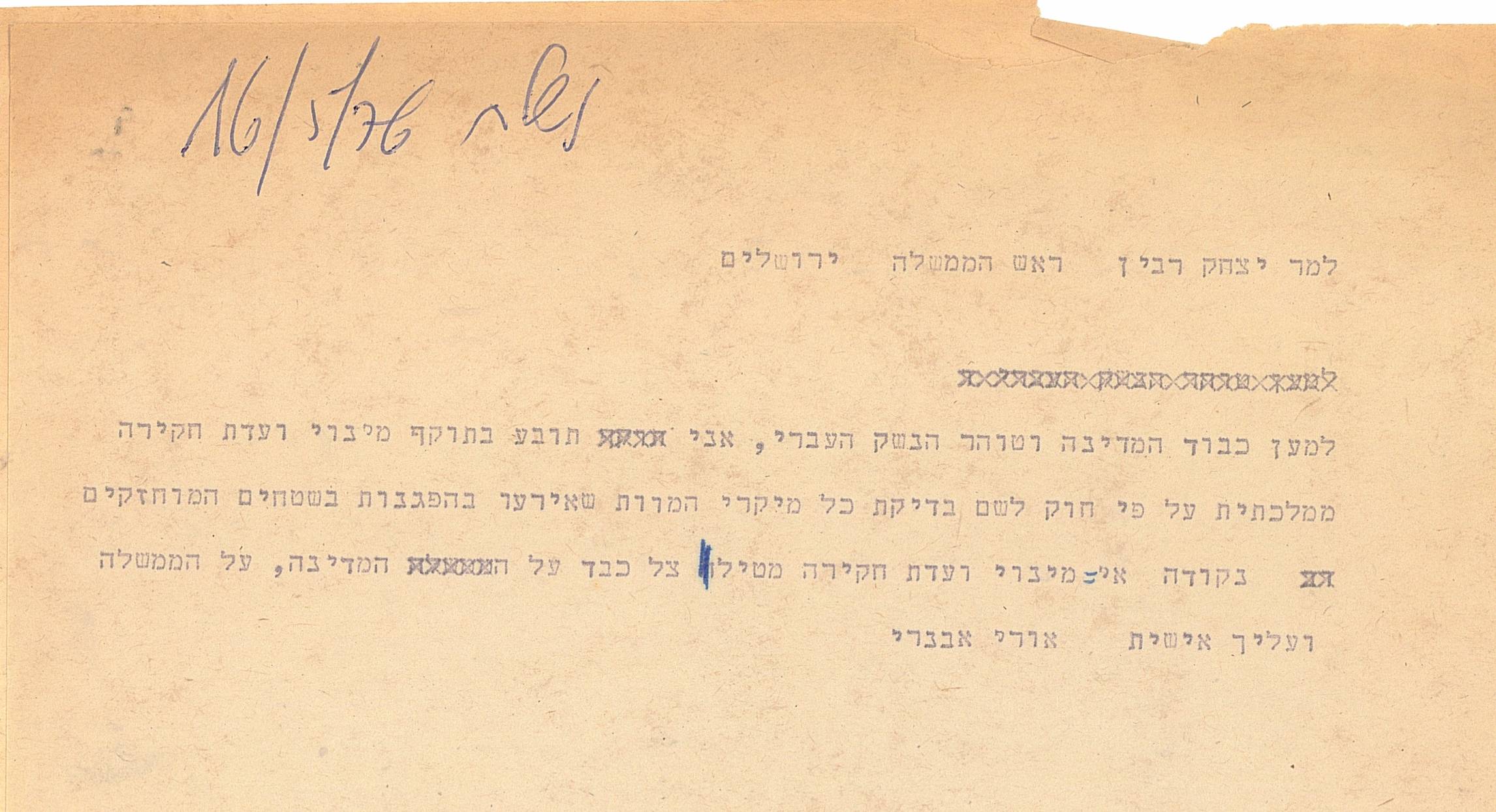 [1976] Cable to Prime Minister Yitzhak Rabin on 15.6.76 demanding the appointment of a Judicial Commission of Inquiry following killings on the Land Day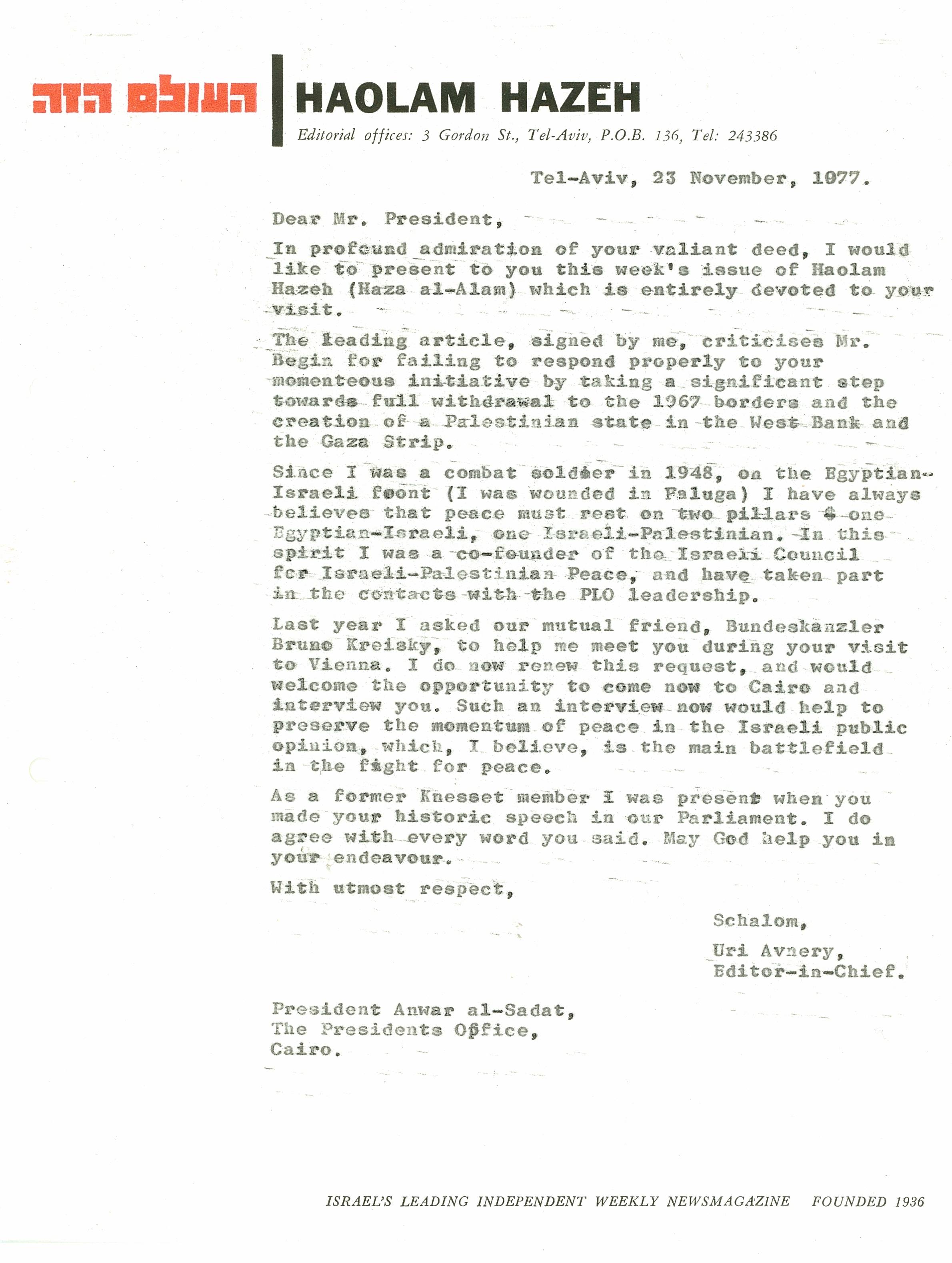 [1977] Letter to Sadat after his historic visit in Jerusalem asking him for an interview with Avnery in Cairo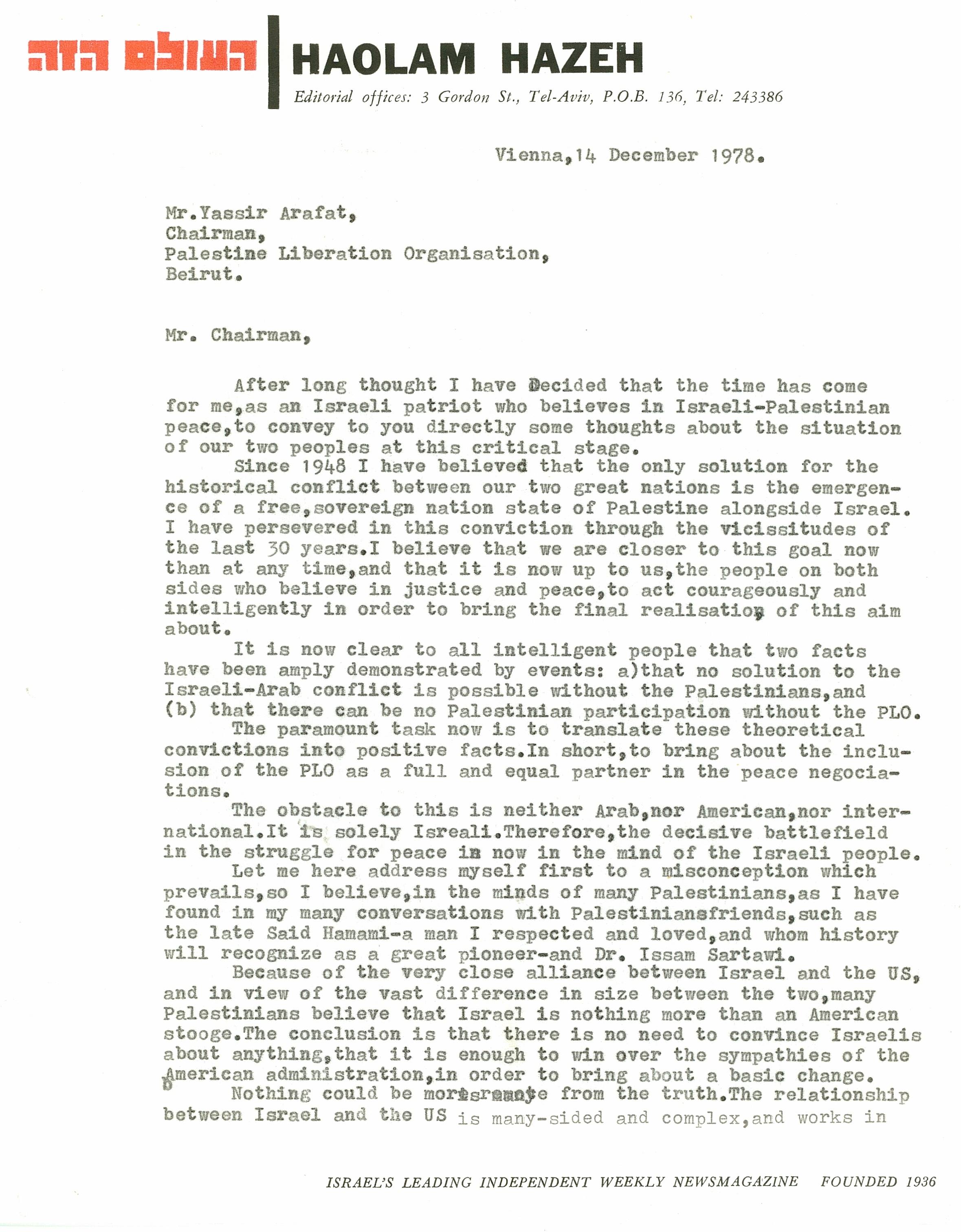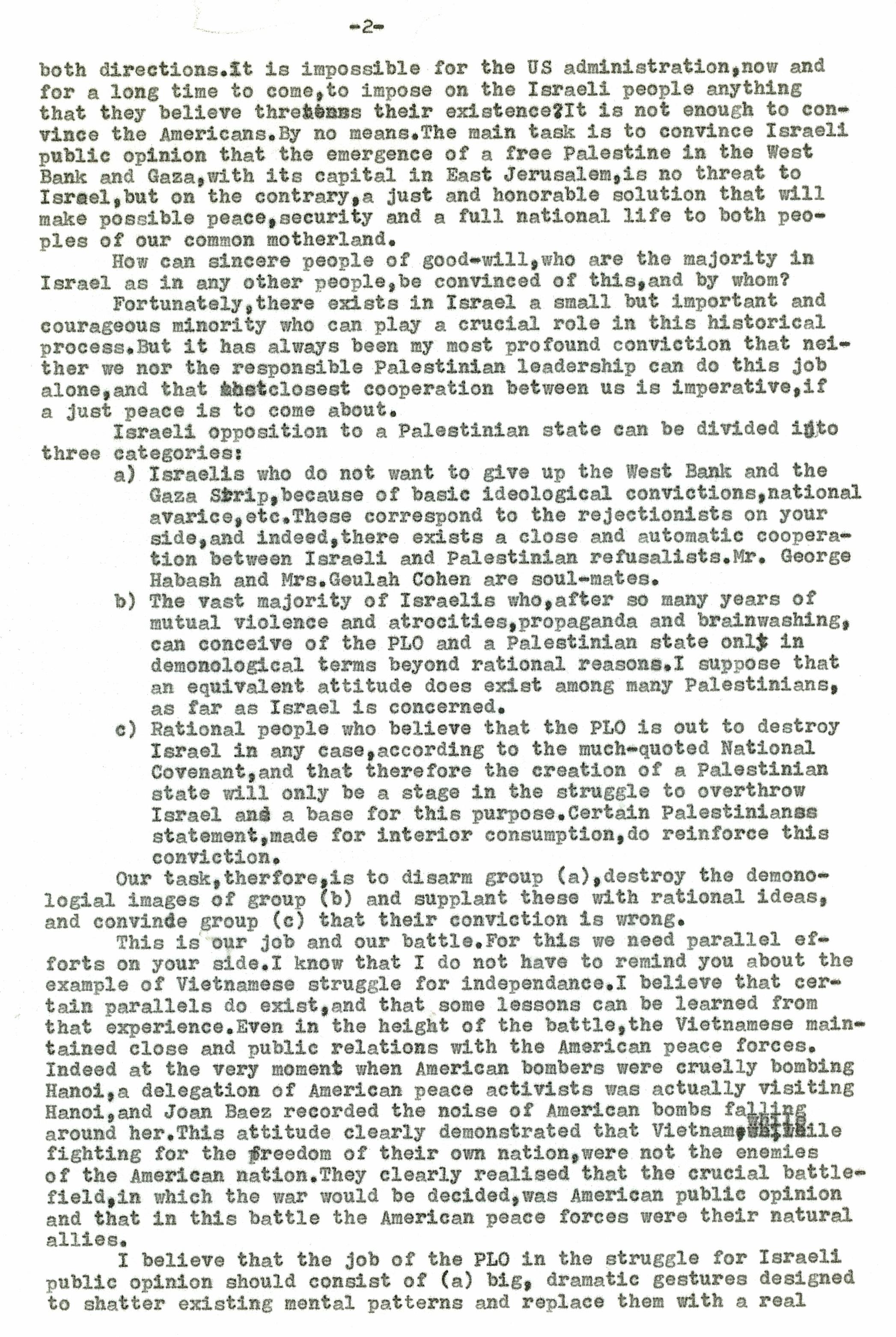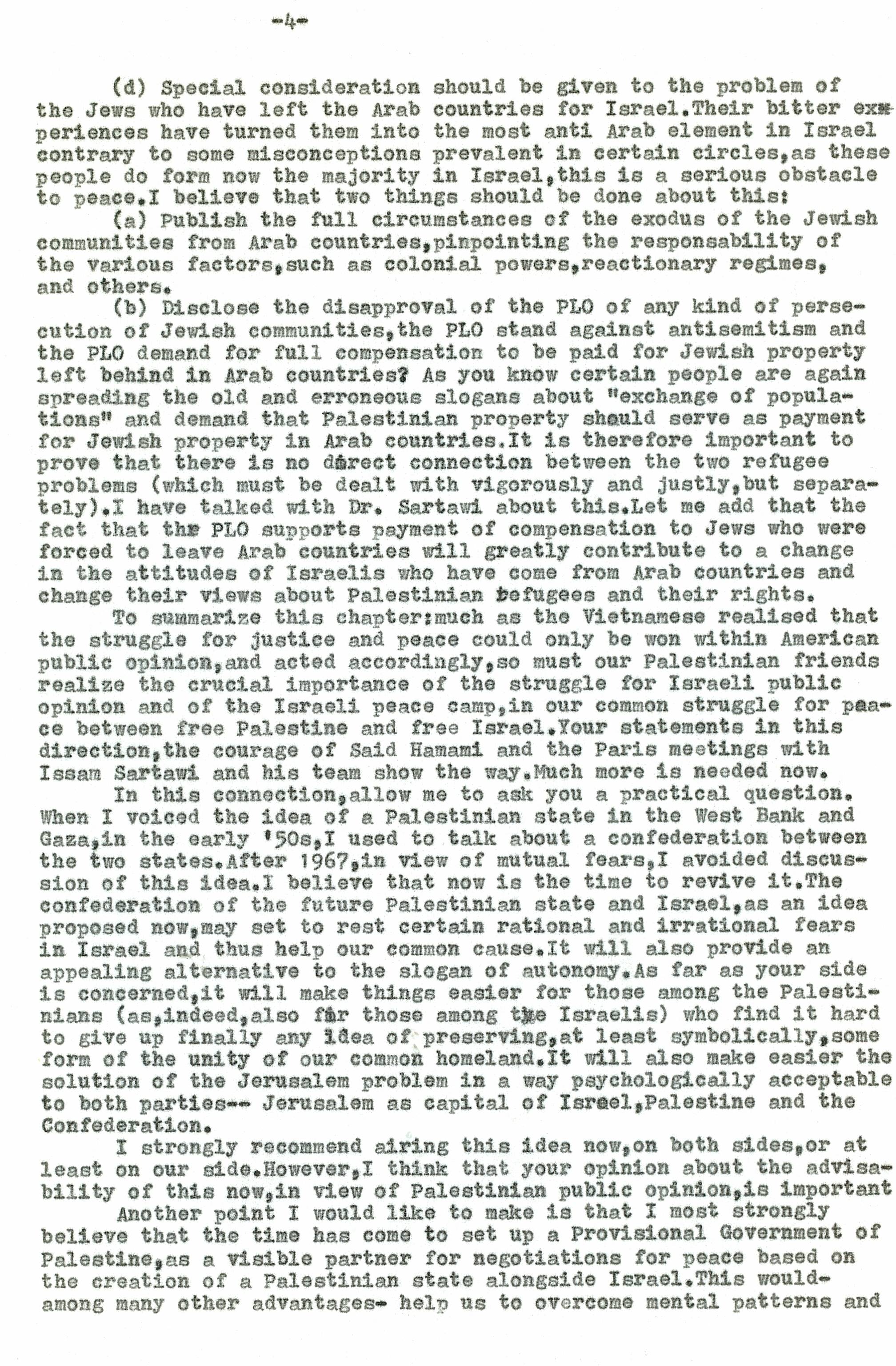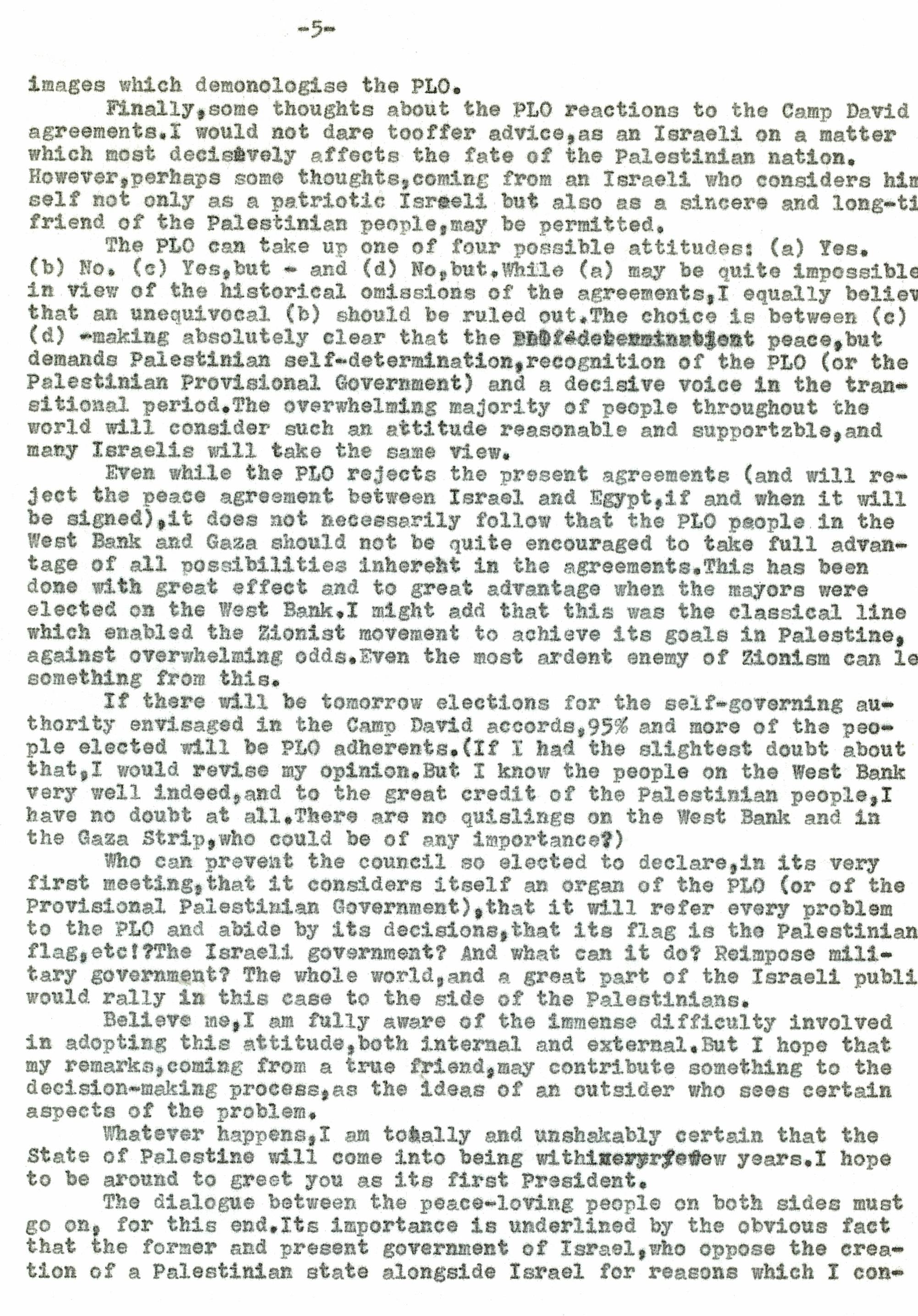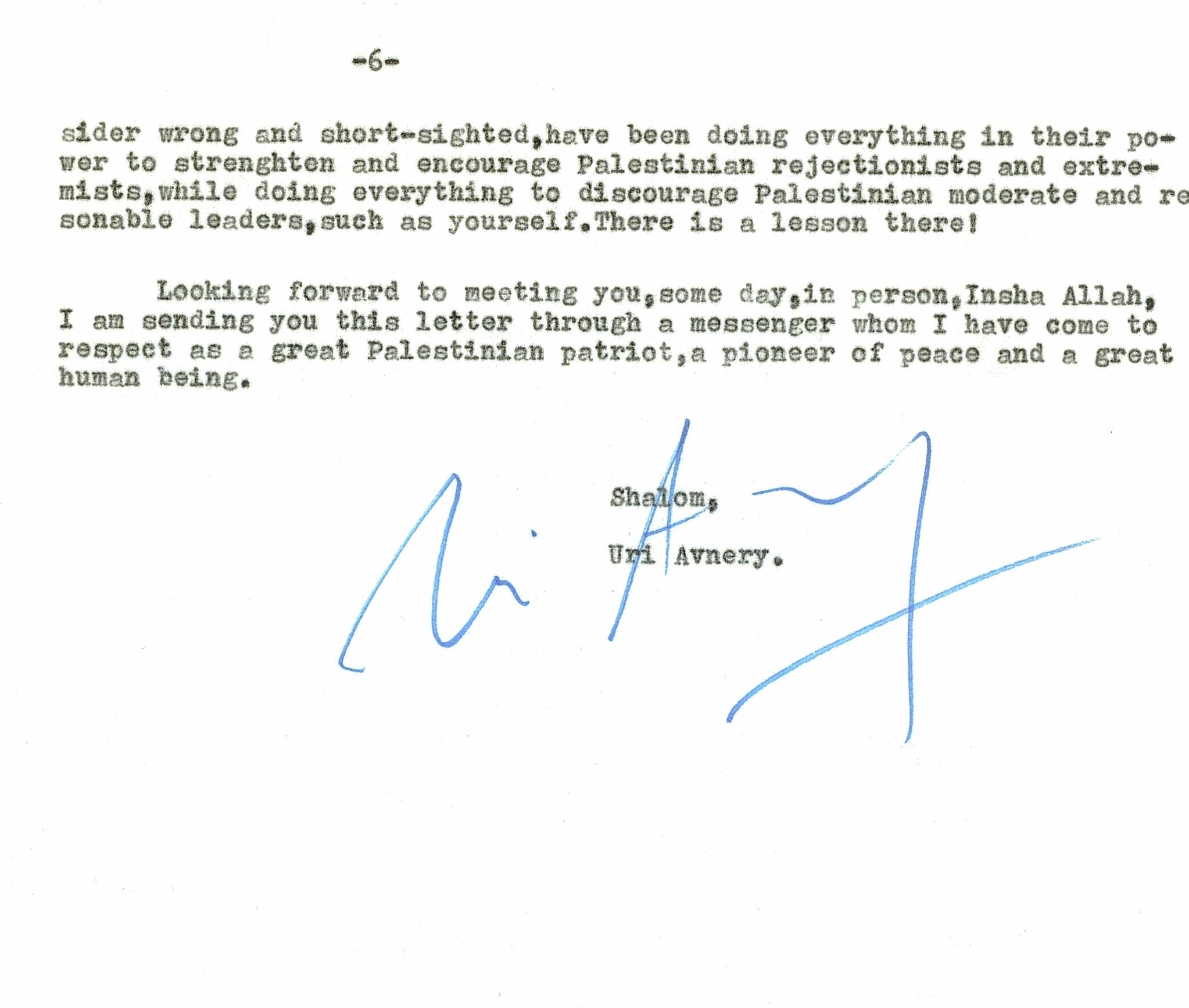 [1978] (6 pages)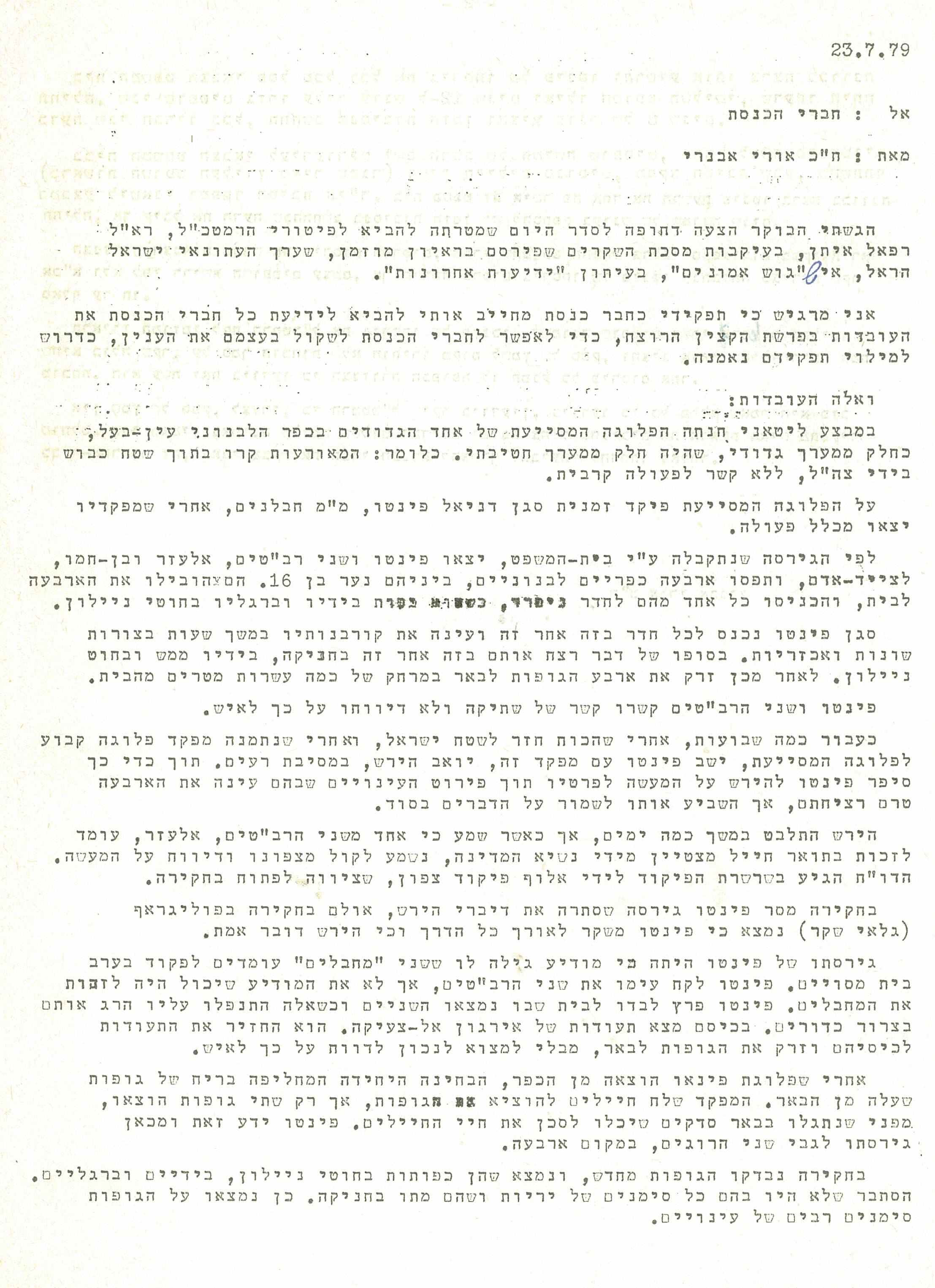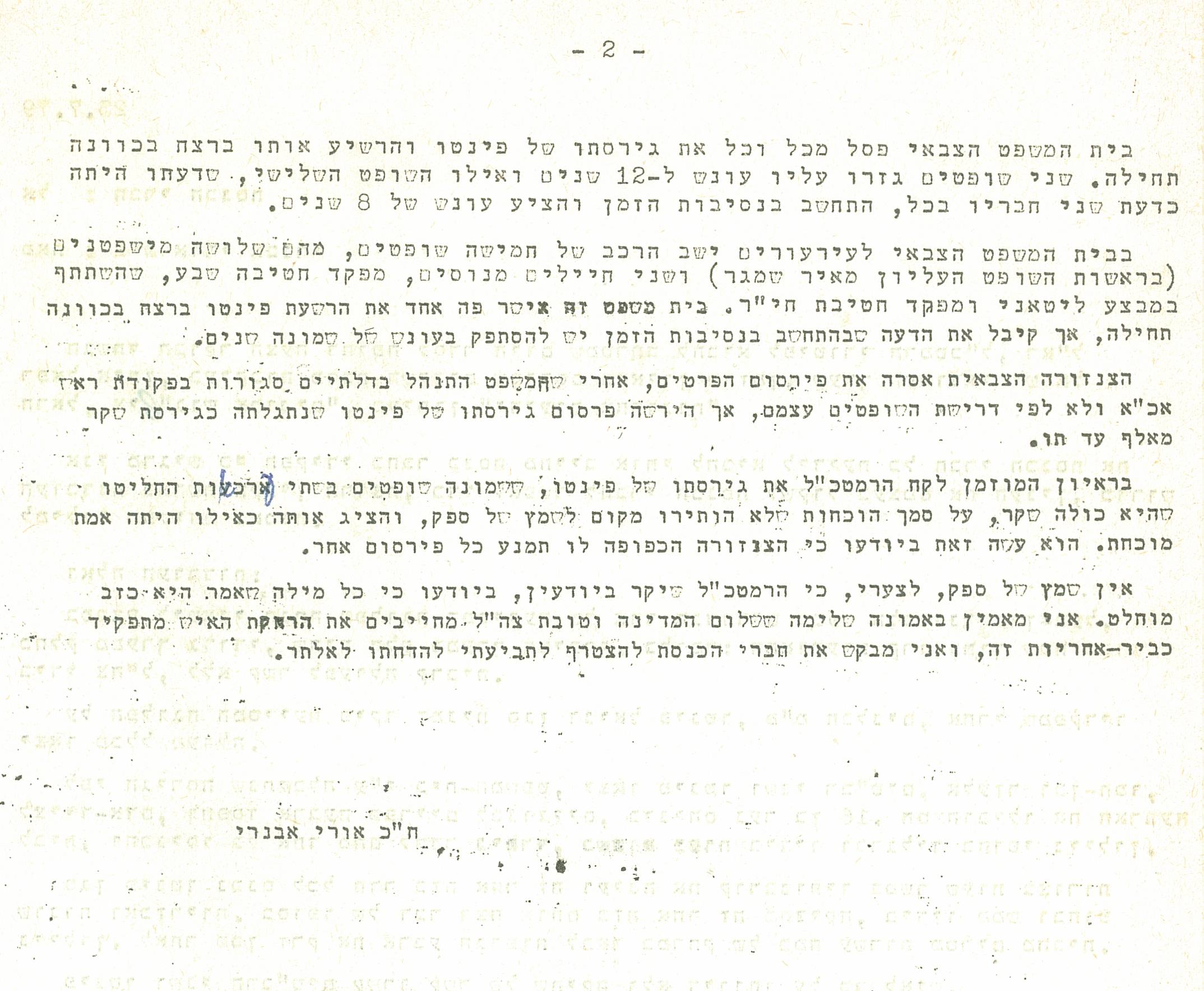 [1978] Letter to all Members of the Knesset demanding the dismissal of Chief of Staff Raphael Eytan because of his part in the Daniel Pinto affair - the killing of prisoners.The real purpose was to go around censorship and make the matter public in Israel and abroad. As a letter of a Member of the Knesset, the letter enjoyed immunity. (2 pages)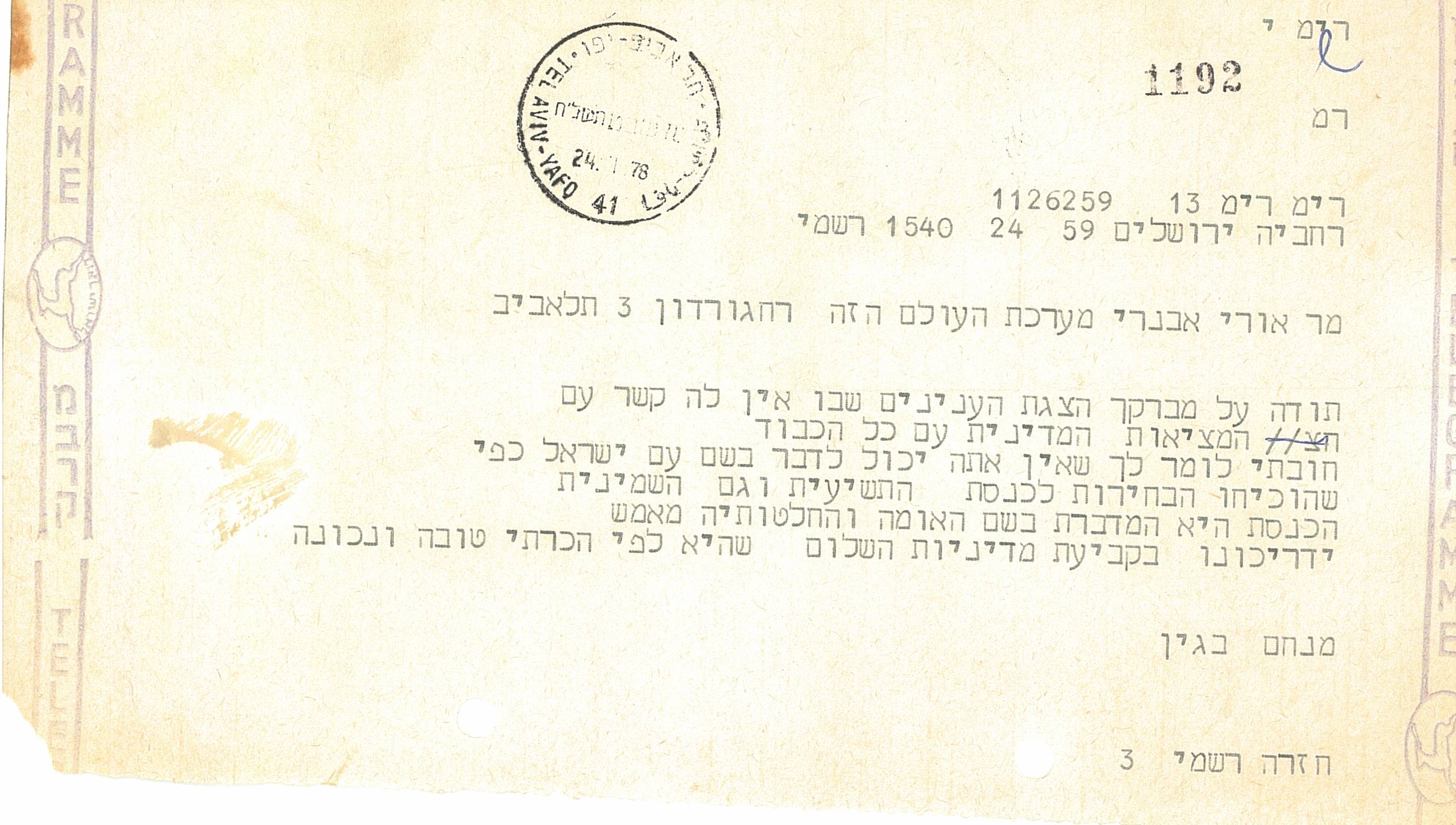 [1978] Cable from PM Menachem Begin to Uri Avnery denying allegations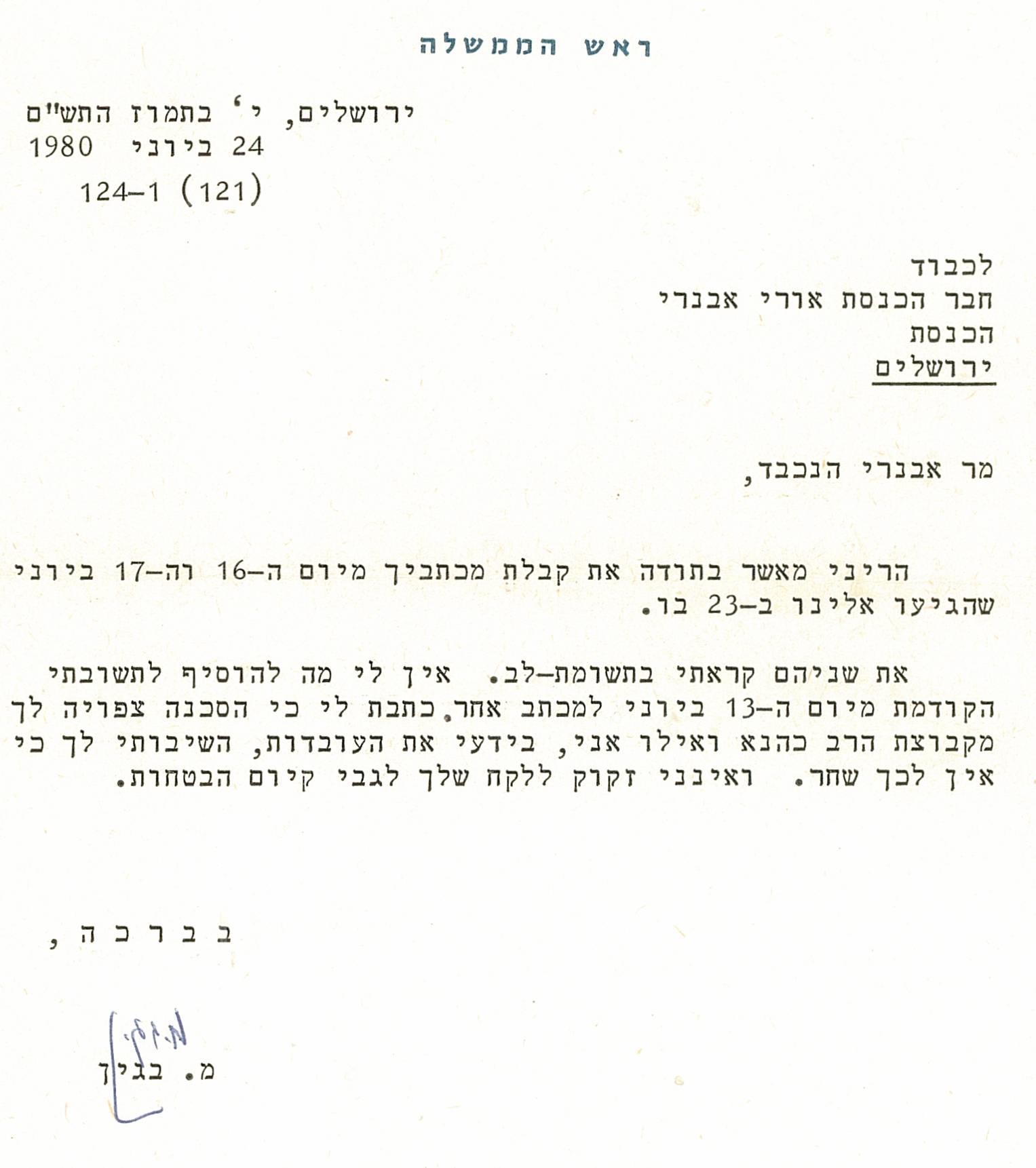 [1980] Letter by PM Begin denying that Meir Kahana was inciting to murder.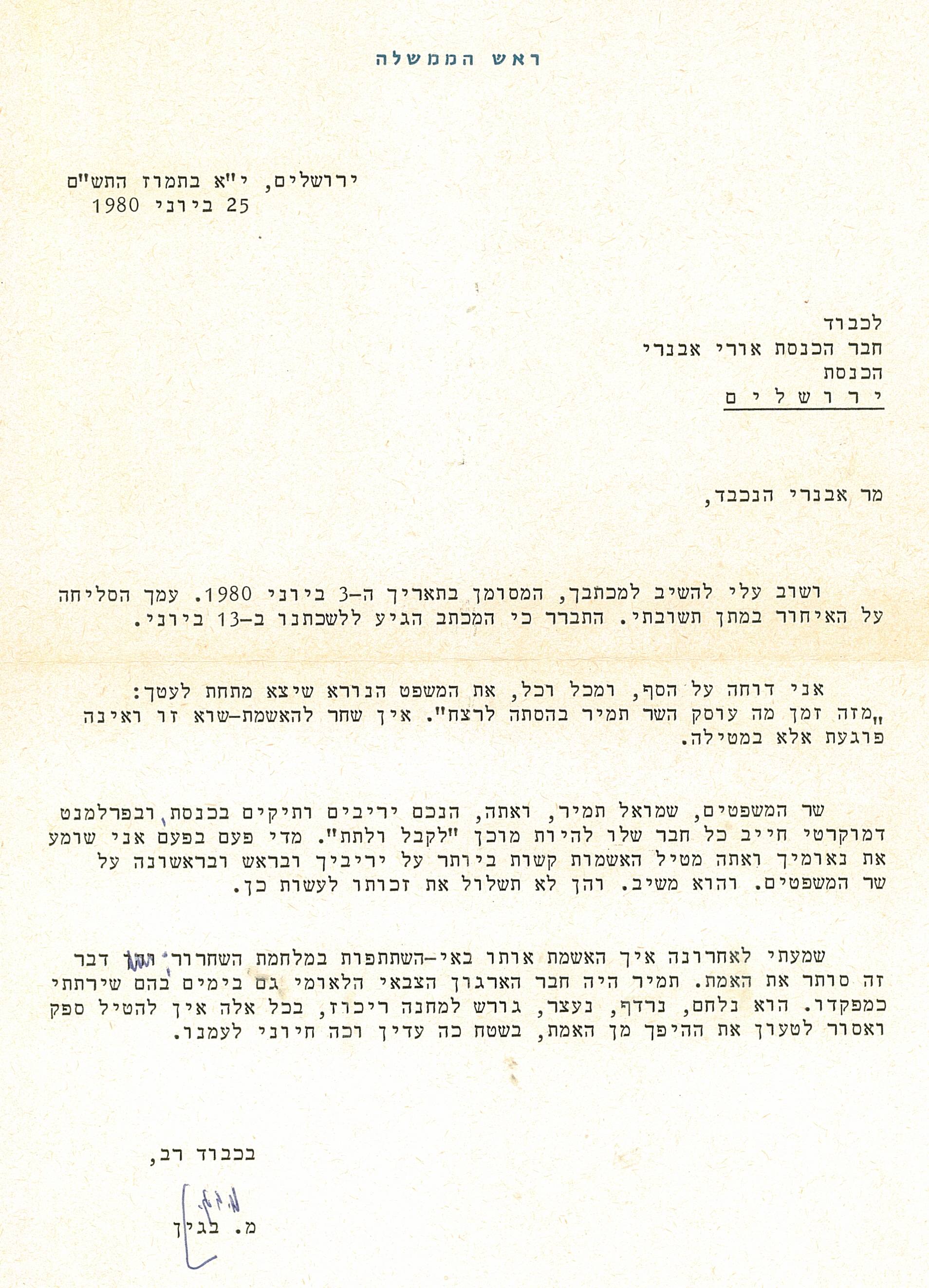 [1980]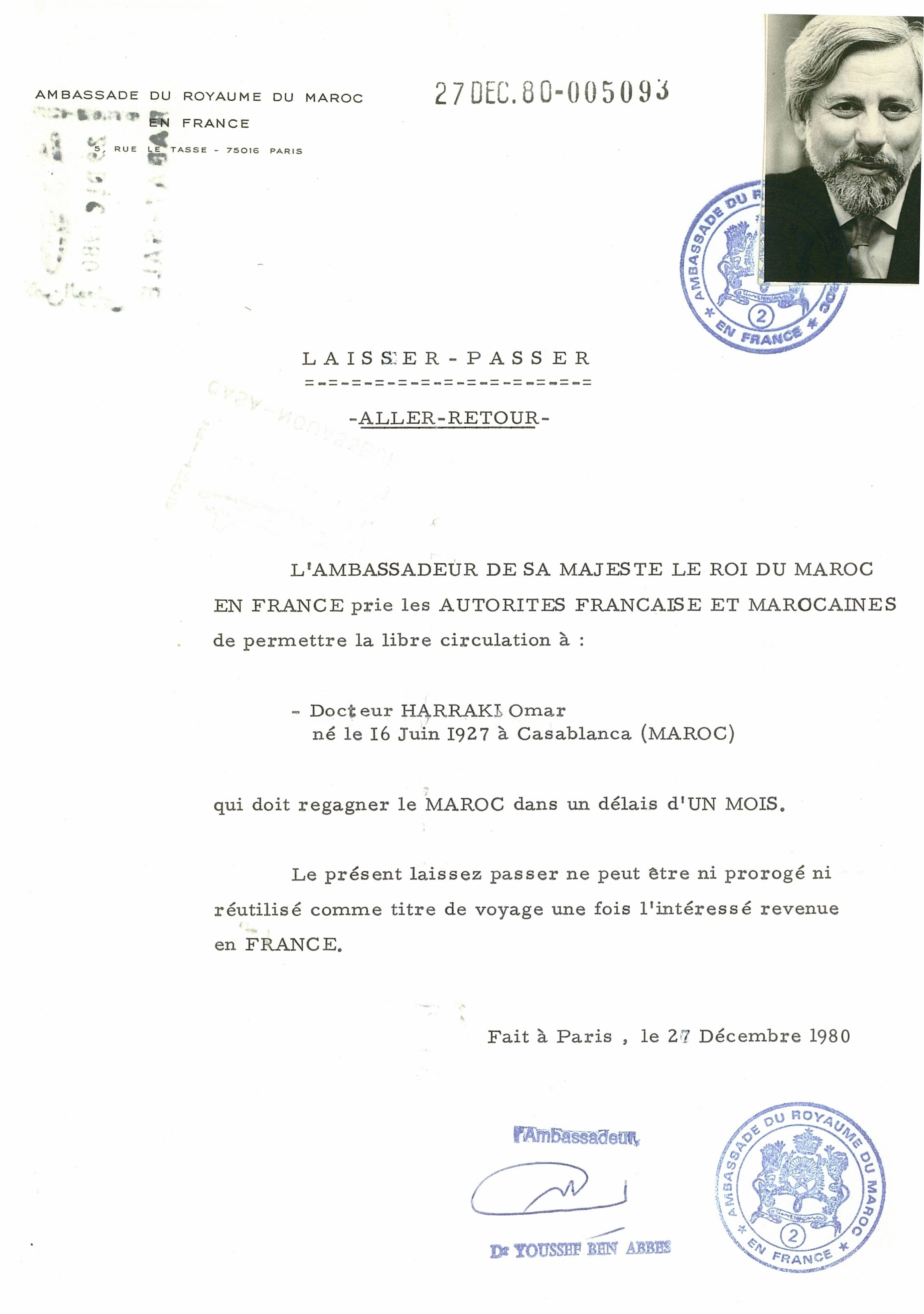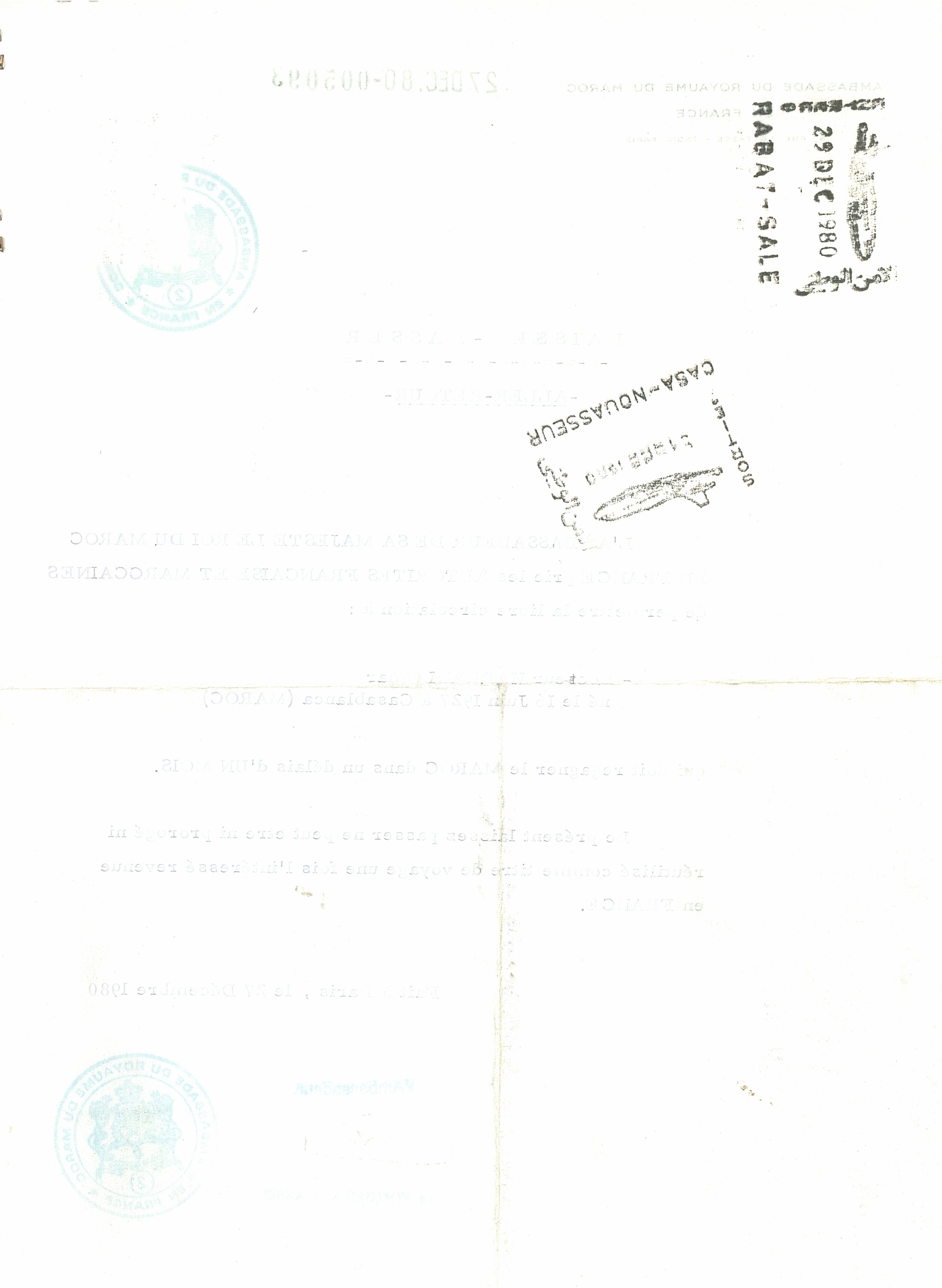 [1980] False Laisser-Passer issued by the Moroccan Embassy in Paris at the request of King Hassan II in order to enable Avnery to come and meet the king (2 pages)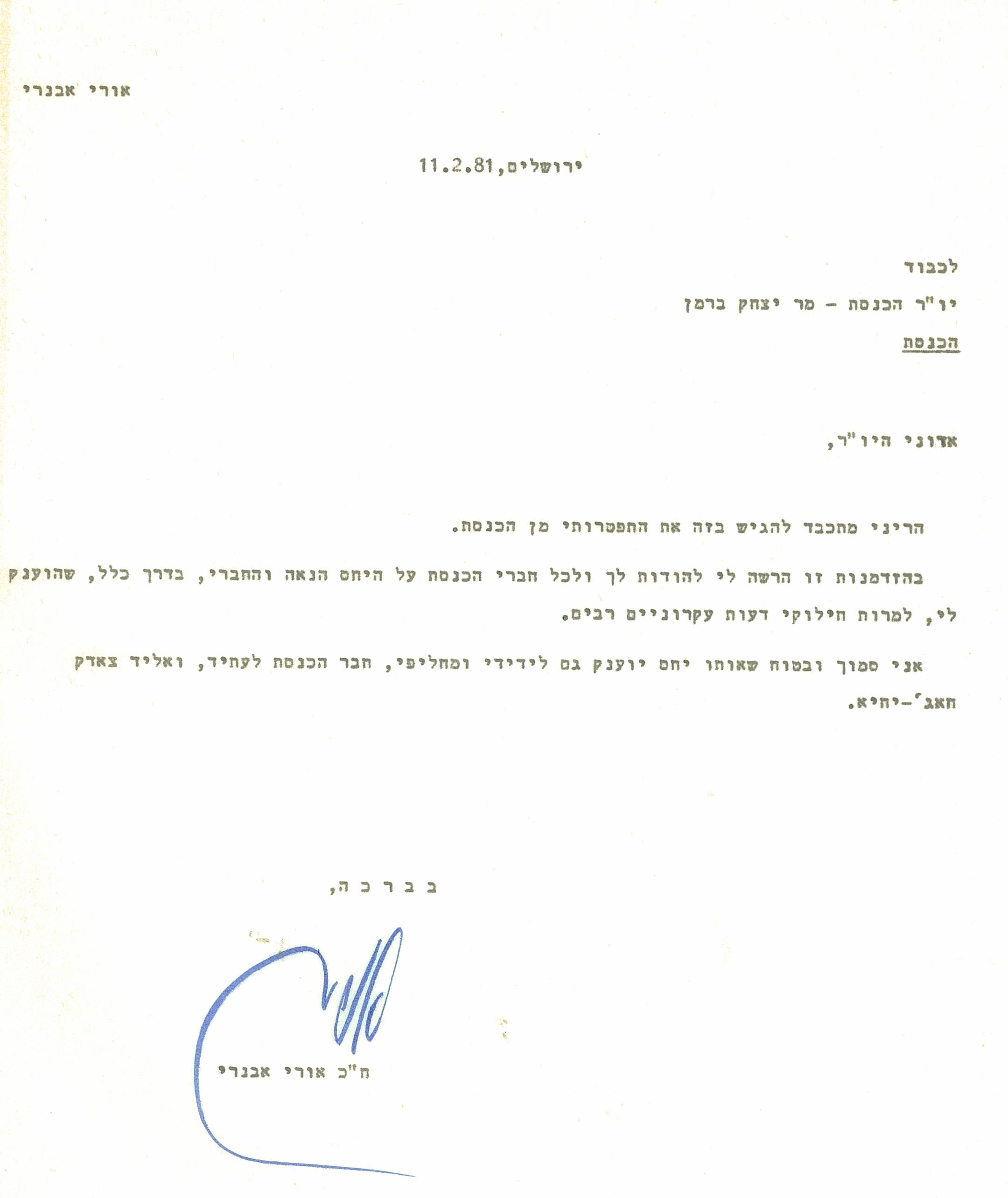 [1981] Avnery's resignation from the Knesset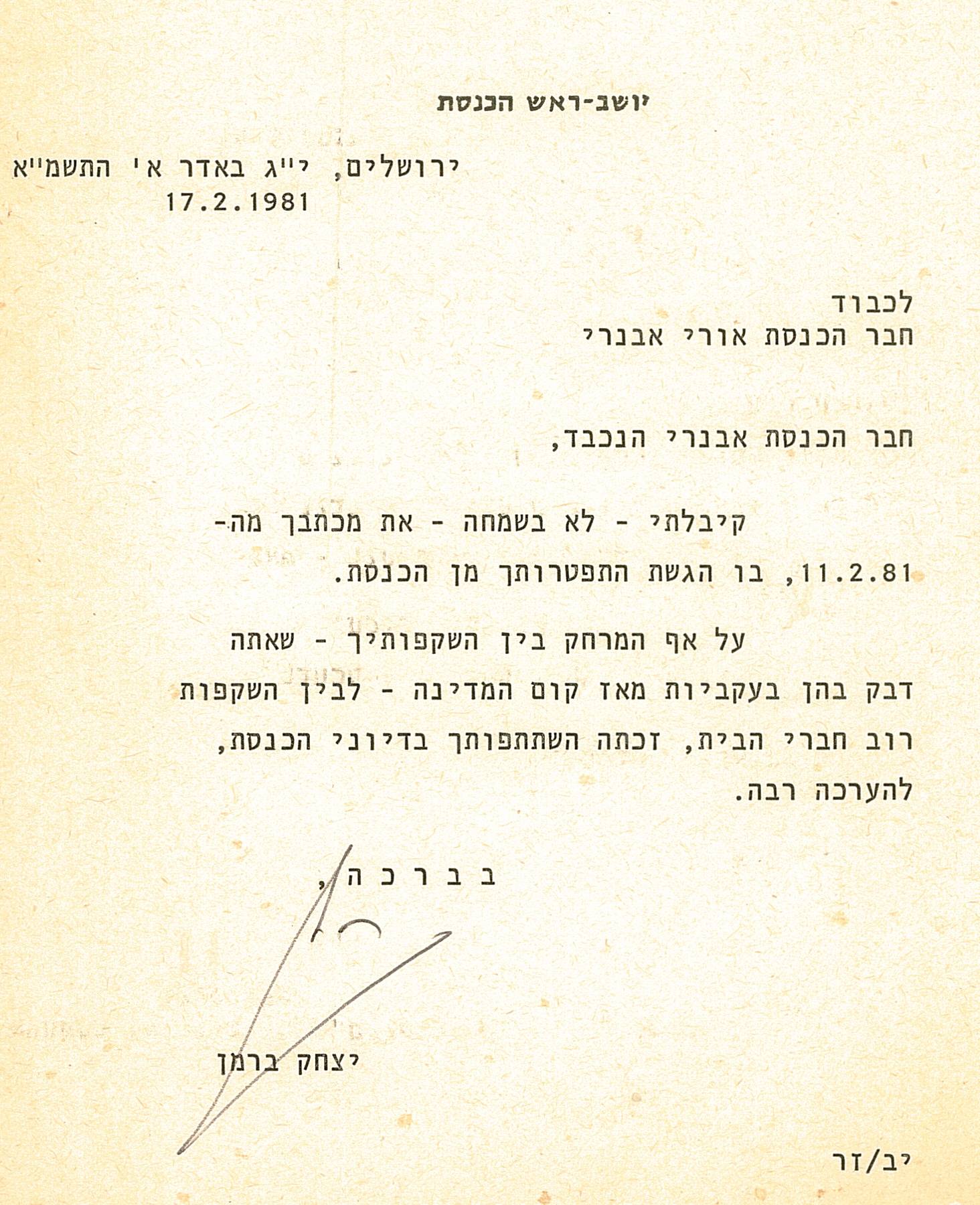 [1981] Appreciation letter of Knesset Chairman Yitzhak Berman upon Avnery's resignation from the Knesset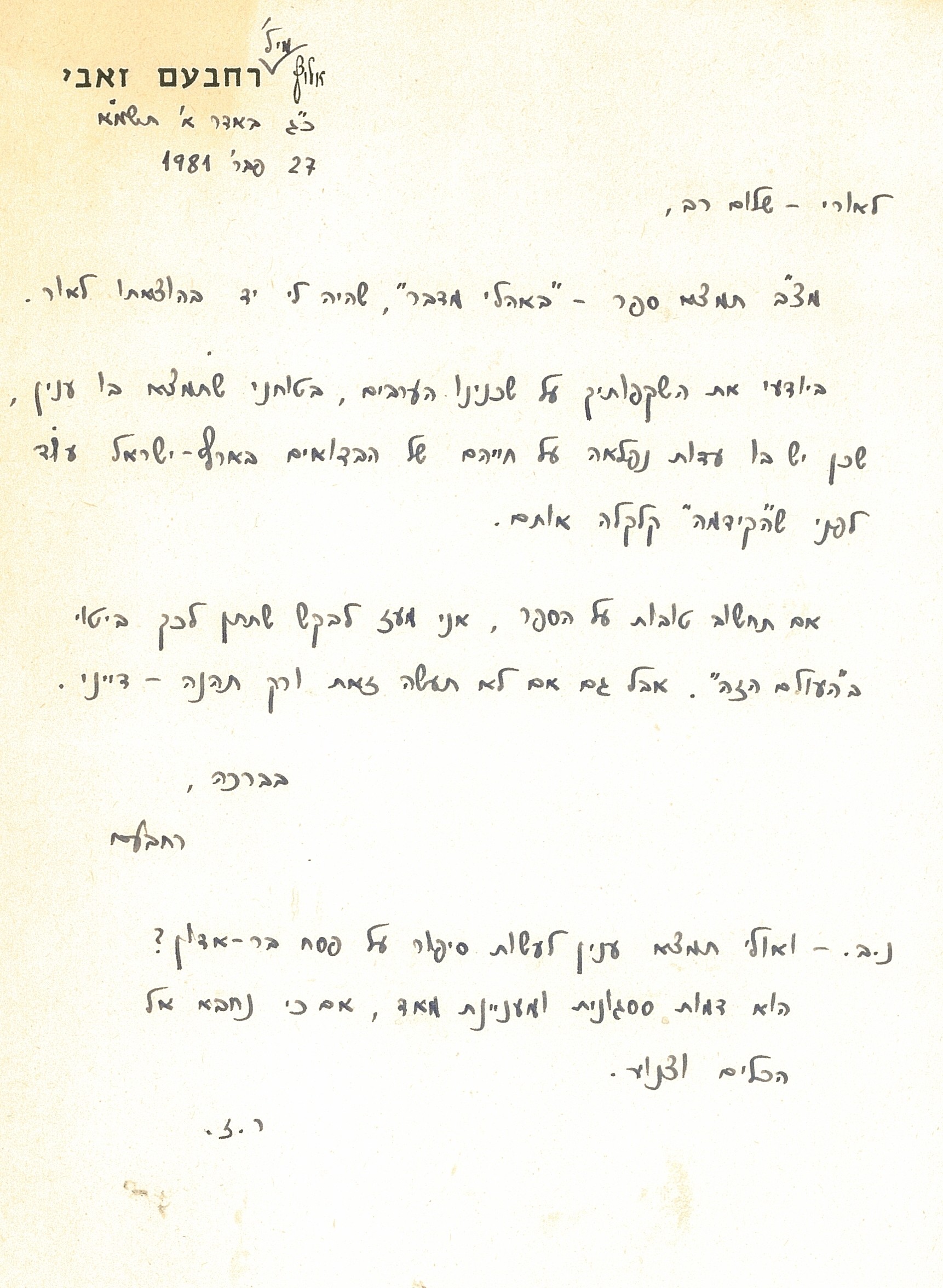 [1981] zeevi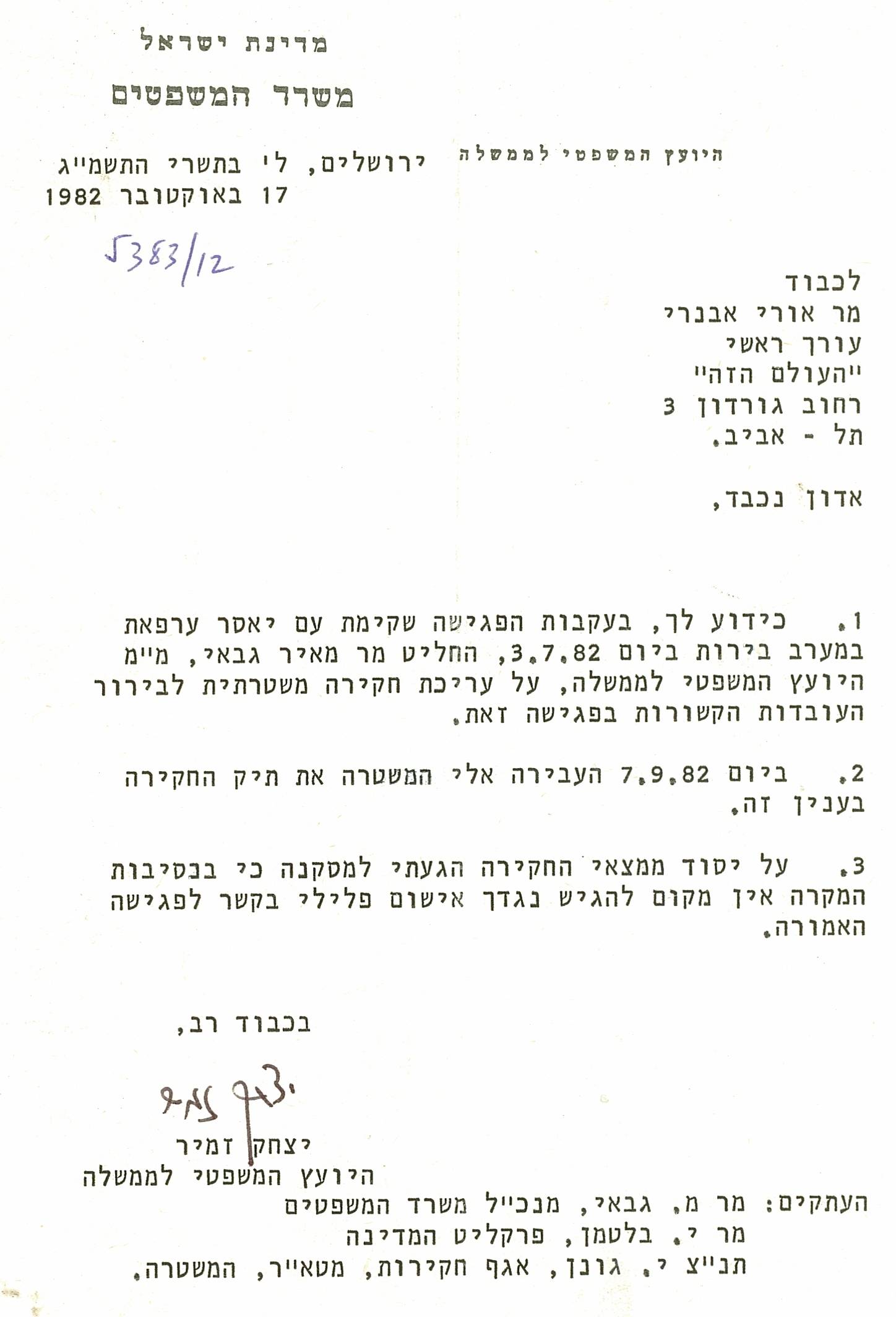 [1982] Letter by the government's legal advisor Yitzhak Zamir informing Avnery the decision not to open criminal proceeding against him following his meeting with Yasser Arafar
[1985] Answer of the President of Israel Haim Herzog to Avnery's suggestion that on the Day of Remembrance for the fallen soldiers each Israeli family put a lighted candle in its window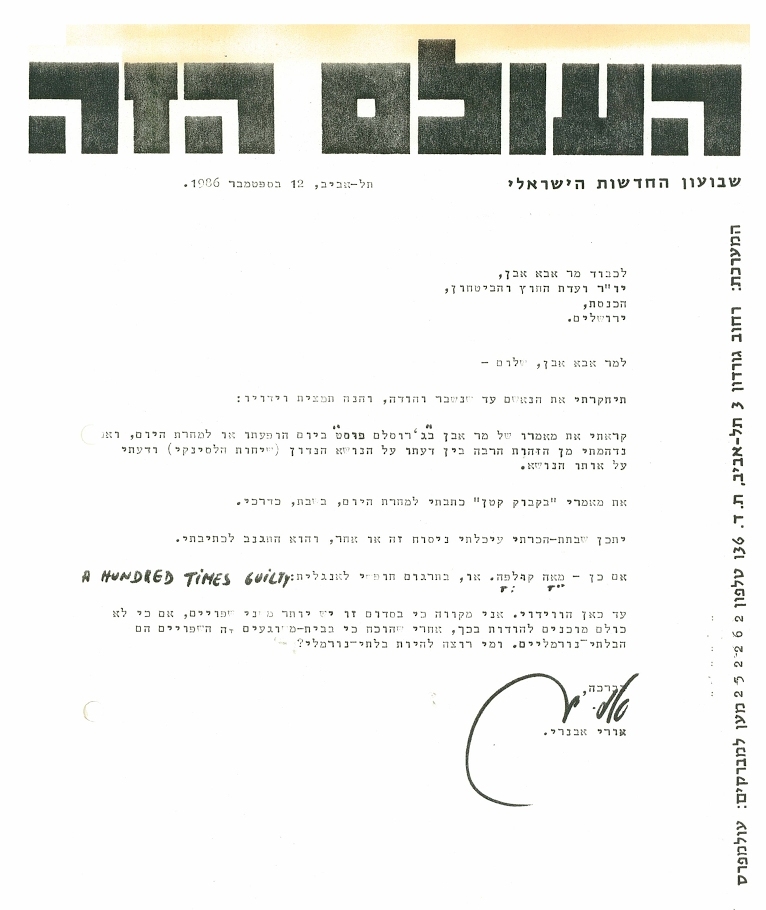 [1986] aba even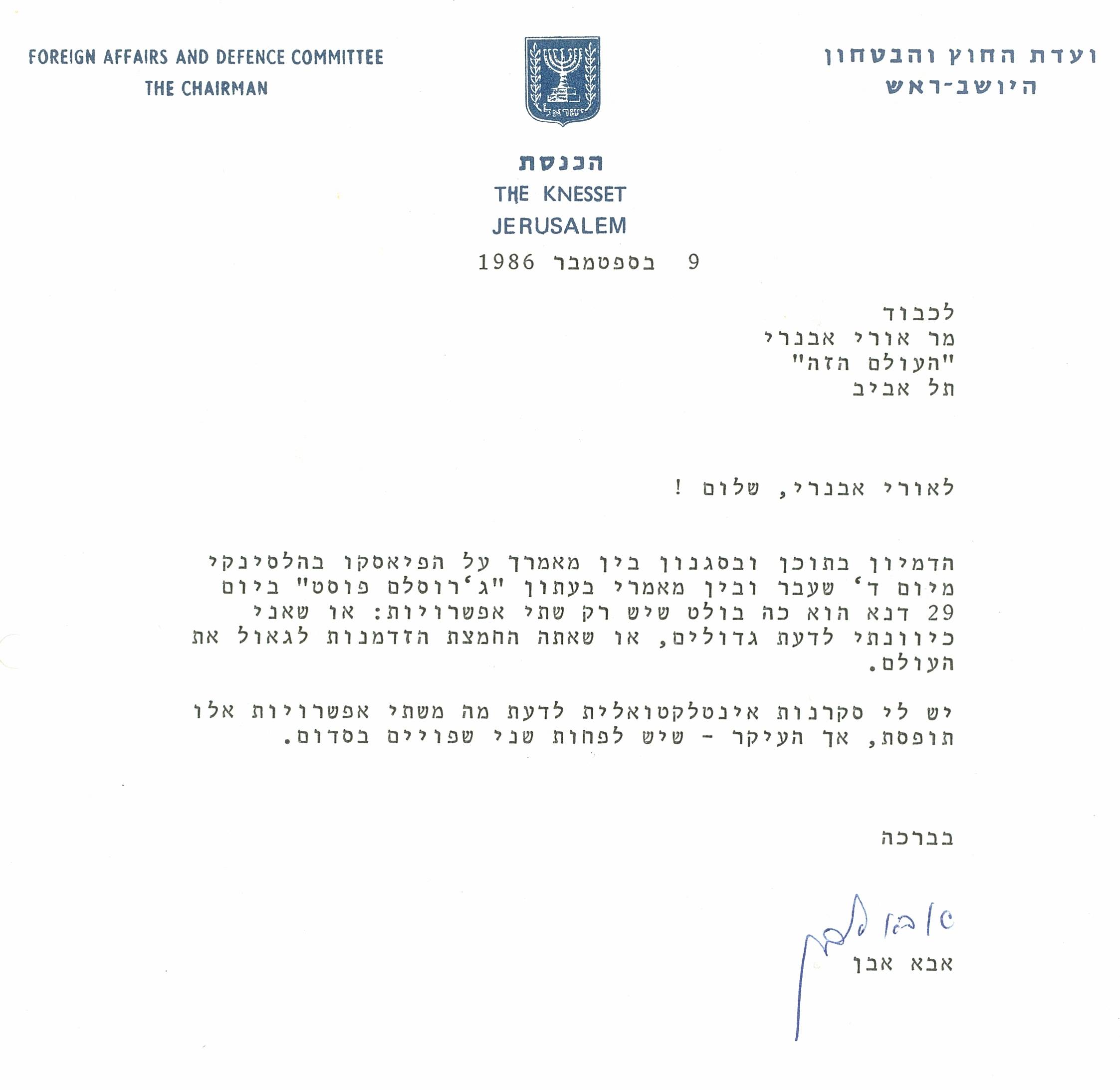 [1986] Avnery's apology to Abba Eban for using a sentence coinhed by Eban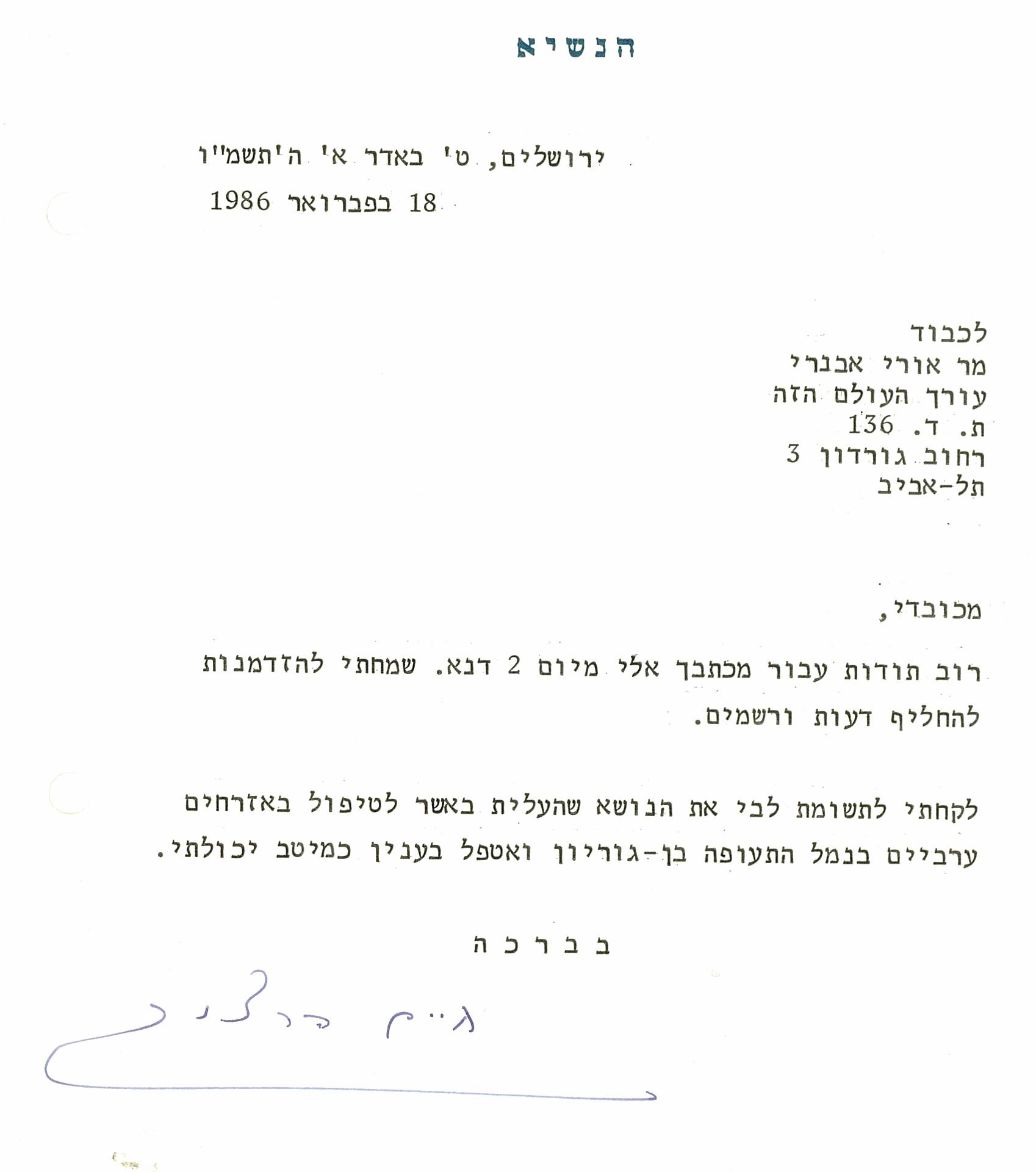 [1986] Letter by President Haim Herzog after his dinner with Avnery at the President's residence, and a reaction to Avnery's request that the President intervene personally to stop the humiliation of Arab citizens at Ben-Gurion airport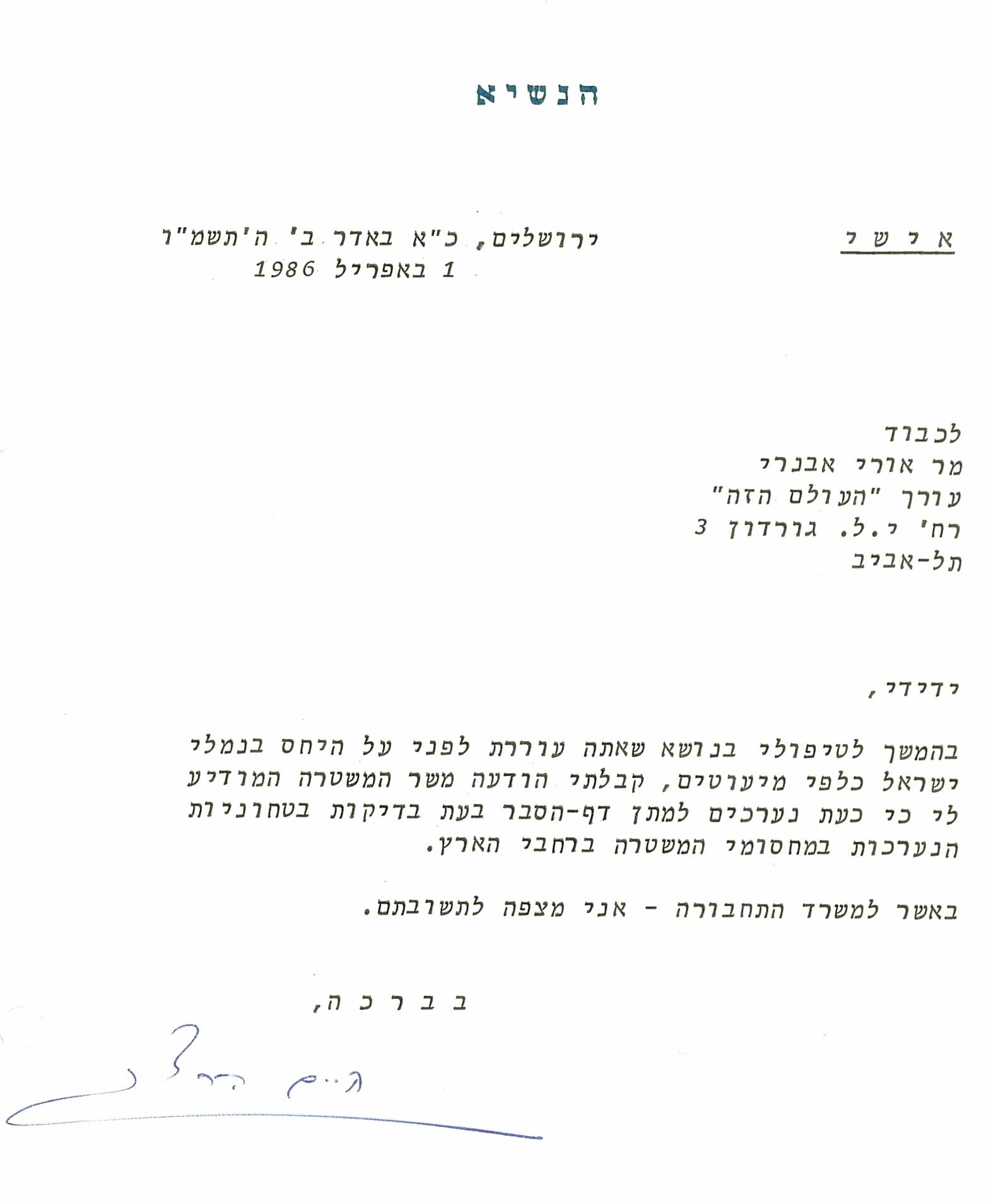 [1986] A confirmation letter from President Herzog concerning the treatment of Arab citizens at Ben Gurion airport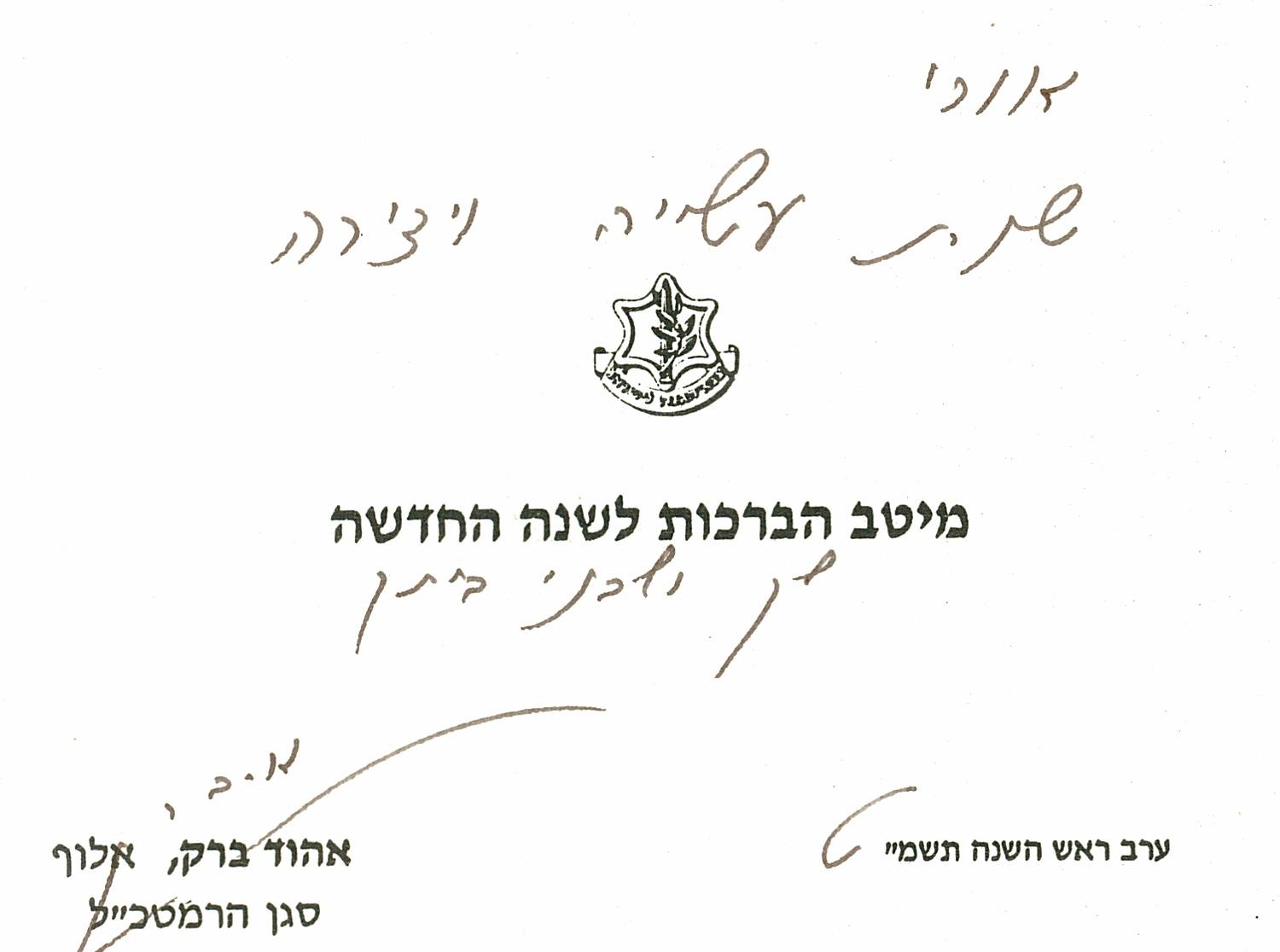 [1988] Rosh Hashana greetings from Ehud Barak (after long conversation between them in the Deputy Chief of Staff's office)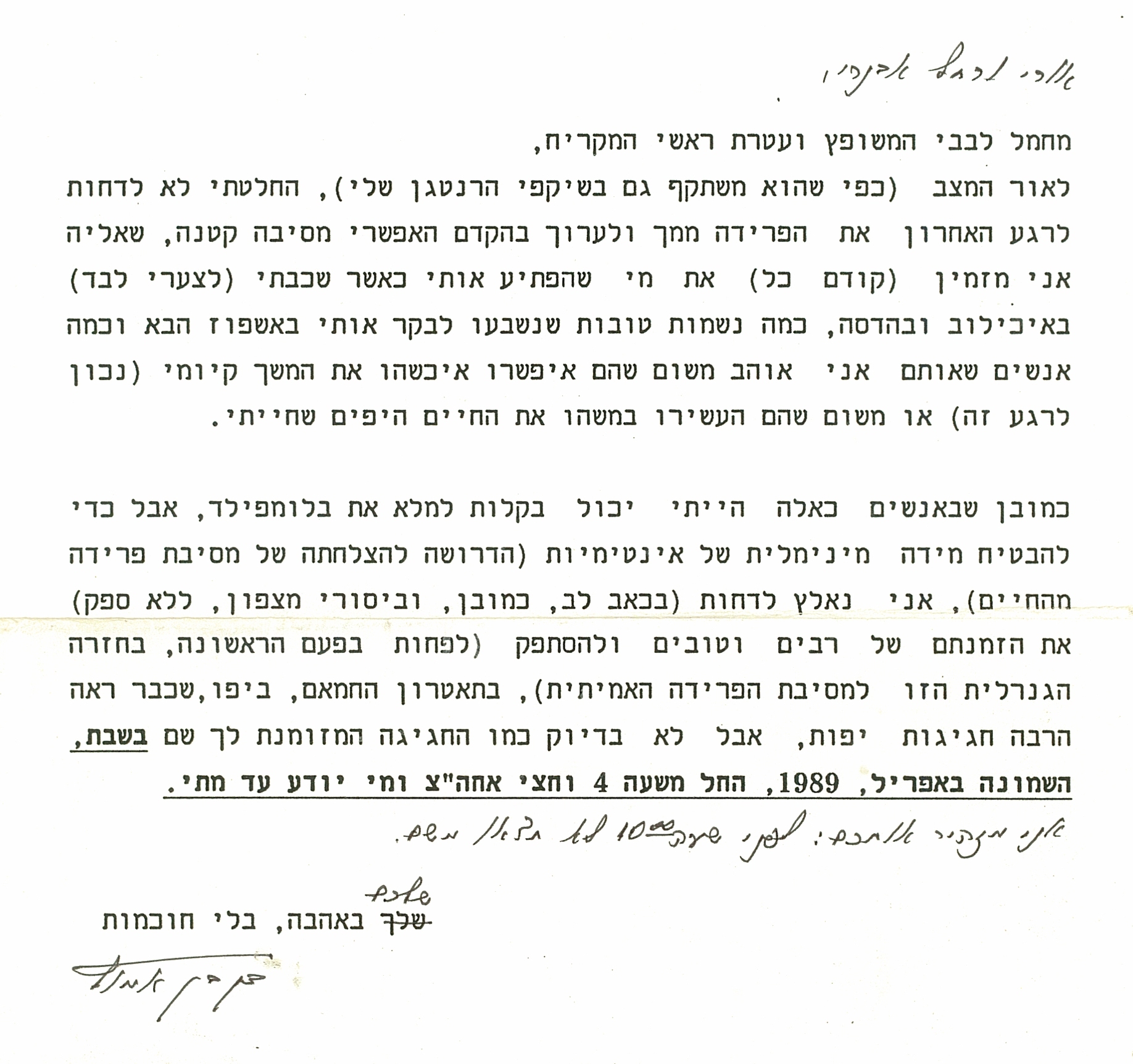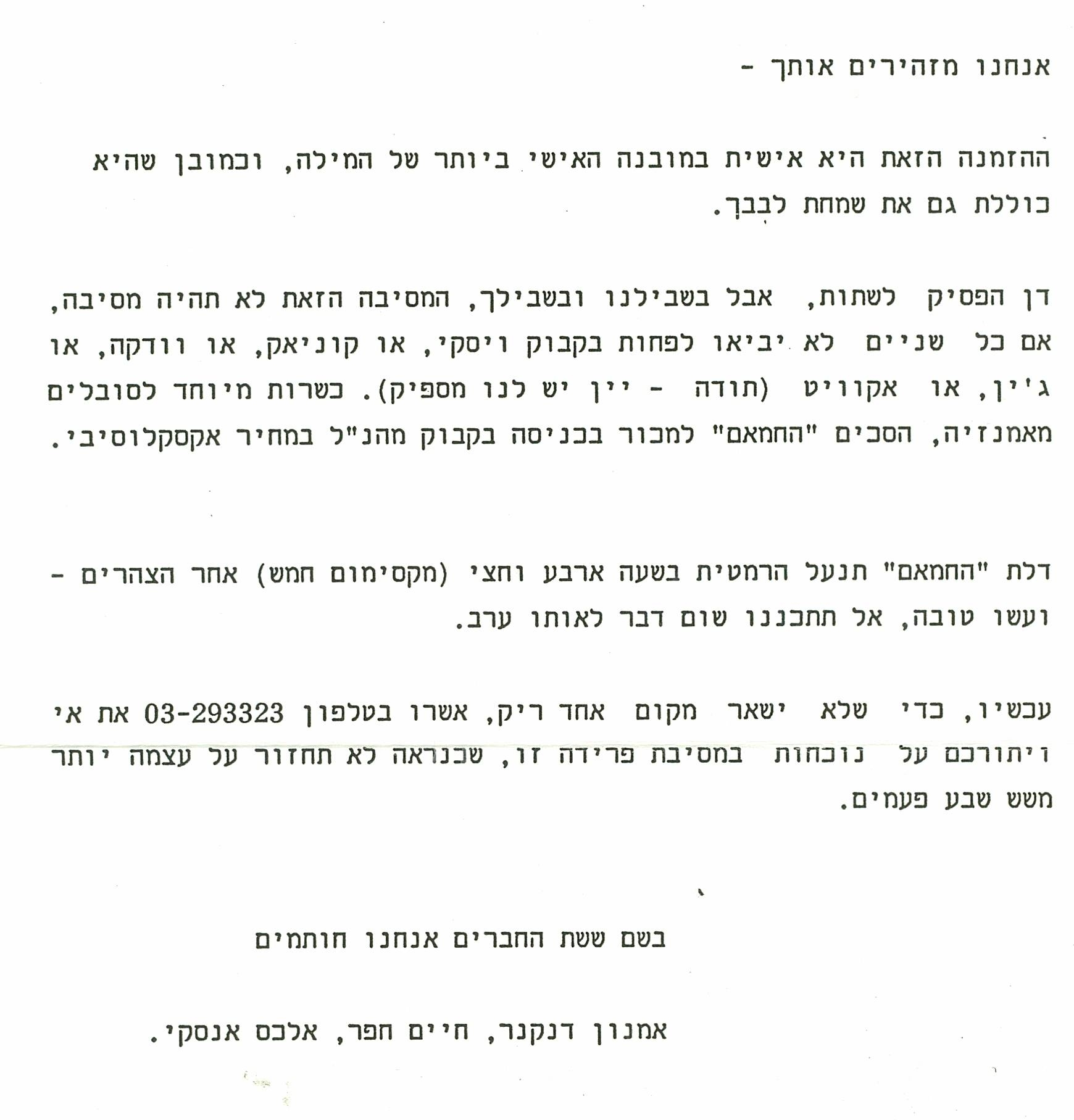 [1989] Invitations to Dan Ben-Amotz's farewell (from life) party (2 pages)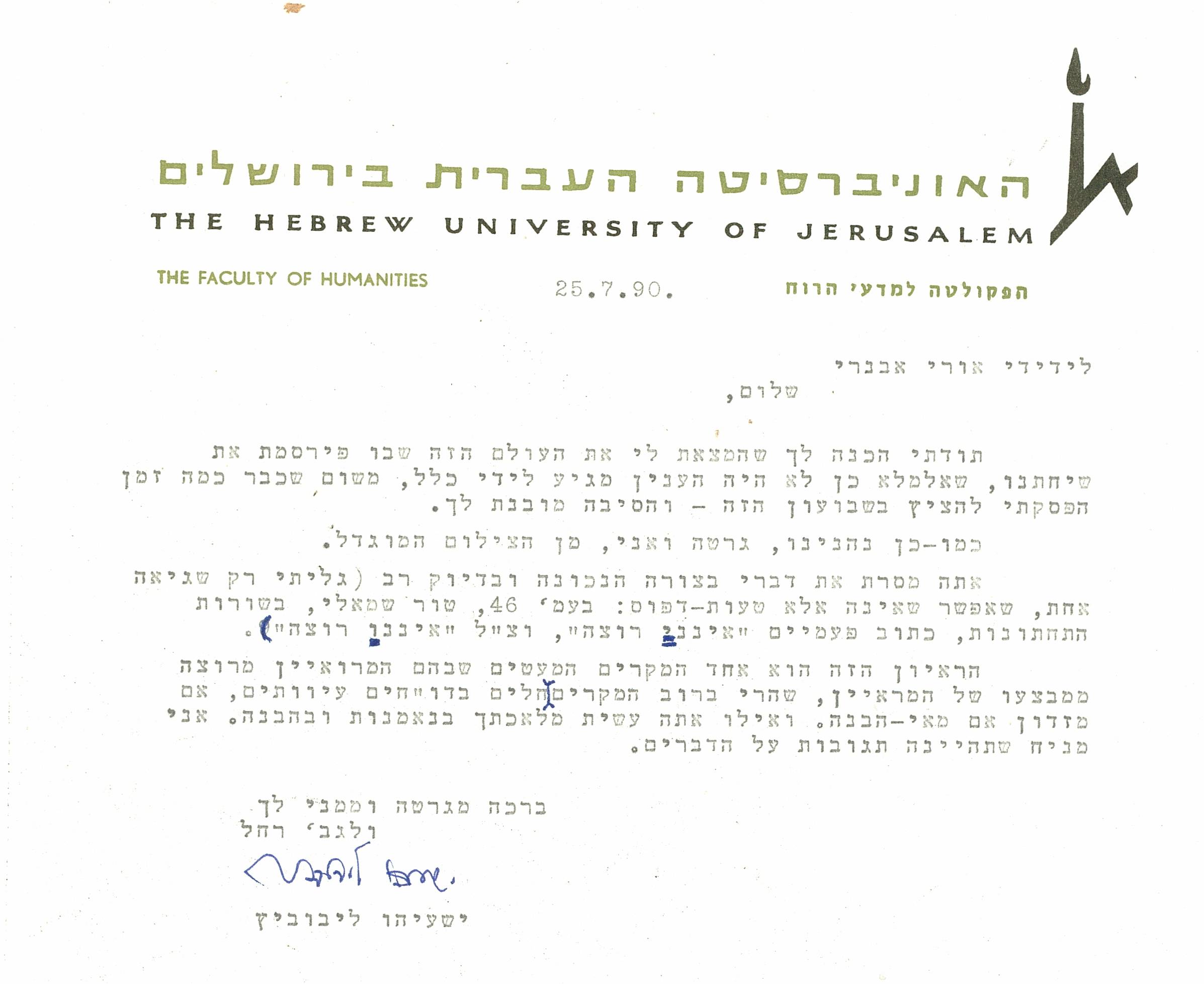 [1990] Thank you letter by Prof. Yeshayahu Leibowitz concerning an interview with him published in Haolam Hazeh
[1995] Note passed by Ahmad Tibi to Avnery in the course of a conversation with Arafat. Avnery was about to ask Arafat to sign a petition