Uri Avnery in the Knesset
HaOlam HaZeh – Koah Hadash | a political party, in 6th and 7th Knesset of Israel.
Sheli - 9th Knesset.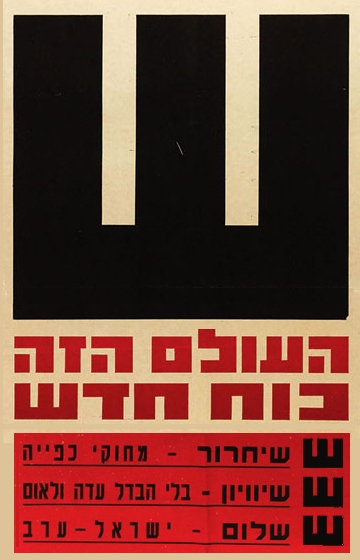 The party was founded by Uri Avnery, editor and owner of the anti-establishment HaOlam HaZeh news magazine, and was the first major radical party in Israel. It surprisingly passed the electoral threshold in the 1965 election, gaining 1.2% of the vote and one seat, taken by Avnery. The 1969 election saw the party pick up two seats, with fellow HaOlam HaZeh journalist and owner Shalom Cohen taking the second seat. However, disagreements between Avnery and Cohen led to the party breaking up on 4 January 1972. Cohen served the remainder of the Knesset session as an independent MK, whilst on 3 July 1973 Avnery renamed the party Meri.

Sheli - The party was formed prior to the 1977 elections by the merger of Meri, Moked, the Independent Socialist Faction and some members of the Black Panthers. It won two seats in the elections, which were held on a rotation basis by five party members; Uri Avnery (previously an MK for Meri), Aryeh Eliav (an MK for the Independent Socialist Faction in the previous Knesset), Meir Pa'il (an ex-Moked MK), Saadia Marciano and Walid Haj Yahia. Other prominent members of Sheli were the former deputy chief of staff of the Israeli army Matti Peled and Ran Cohen, who later served as an MK for Ratz and Meretz and a government minister.
On 11 November 1980, Marciano broke away from the party to form a single-member faction, later renamed Equality in Israel – Panthers. On 19 May 1981 he was joined by former Dash MK, Mordechai Elgrably. The new party was later renamed as the Unity Party.[1]
Uri Avnery's page on the Knesset website